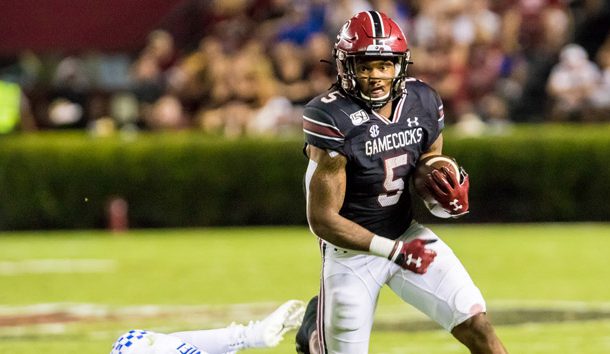 COLUMBIA — With their season on the line, the South Carolina put together its best defensive performance of the season and defeated Kentucky 24-7 at Williams-Brice Stadium.
The win snapped a five-game losing streak for the Gamecocks against the Wildcats.
Gamecock Coach Will Muschamp felt like South Carolina controlled the line of scrimmage on both sides of the ball. The defense held Kentucky to 212 total yards and only nine first downs on 62 plays.
Kentucky's only drive of the night came on its final possession when it scored with 2:32 remaining in the game to cut the lead to 24-7. South Carolina defensive lineman D.J. Wonnum led the Gamecock defense with a career high three quarterback sacks.
The Wildcats had averaged better than 200 yards rushing against South Carolina during the five-game winning streak. They managed just 115 yards on the ground in this game.
Rico Dowdle and Tavian Feaster, the Gamecocks' two senior tailbacks, ran for more than 100 yards and accounted for three touchdowns. This was the first time South Carolina has had two 100-yard rushers in an SEC games since Derek Watson and Andrew Pinnock against Vanderbilt in 2000. Feaster rushed for 107 yards and two touchdowns, while Dowdle rushed for 102 yards and one touchdown.
Feaster won two national championships with Clemson, but wanted a new setting where he could showcase the skills that made him a five-star prospect coming out of high school and transfer to rival South Carolina to help boost their rushing game.
Going into the season people wondered how Dowdle and Feaster, both dynamic runners, would manage in the same backfield. Saturday they saw how duo can wear down a defense.
"He pushes me to be better. I push him to be better," Dowdle said. "I think it's working pretty well." The win "proves a lot," Feaster said. "Just that hard work and dedication will take you far. Even if the results weren't immediate, just keep pushing, keep fighting."
"This was a commanding win and that's what we needed going into an off week," Muschamp said.
Kentucky coach Mark Stoops said Wildcat quarter back Sawyer Smith was dealing with injuries and struggled to move the ball.
"We need to hit the reset button and get some guys healthy," he said. "And get some of these mistakes that we're making corrected."
South Carolina is now 2-3 overall and 1-2 in the SEC and has a bye next week before heading to No. 3 Georgia on Oct. 12.
Kentucky falls to 2-3 overall (0-3 in the SEC) and is off next week before returning home to face Arkansas on Oct. 12.