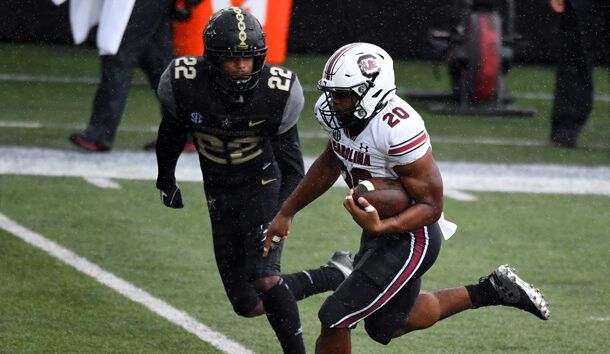 The South Carolina Gamecocks snapped a five-game losing streak dating back to last season with a 41-7 victory over Vanderbilt in front of a crowd of zero fans. Ironically, the last Gamecock win was over Vanderbilt and extended their winning streak to 12 in a row over the Commodores.
Both teams started slowly and South Carolina led 3-0 on a rain-soaked field after one quarter. The game was played in a steady rain throughout the afternoon. The Gamecocks took a 10-0 lead to the locker room at the half. In the second half, South Carolina adjusted its game plan and was able to pull away from the Commodores.
Gamecock quarterback Collin Hill ran for two touchdowns and Kevin Harris ran for two more and a career-high 171 yards as the Gamecocks picked up their first victory of the season. Harris, the sophomore running back limited last season by an injured groin, had himself a day. He ran for a 25-yard TD early in the third, and added a career-long 88-yarder early in the fourth.
South Carolina coach Will Muschamp said Harris gets better as the game goes on.
"You get tired of hitting him, and there's nothing really soft on his body," Muschamp said. "He's got a short stature, but he's a very muscular guy. He runs with high knees; he gets behind his pads and when you take him on, there's nothing there that's soft to hit. He's a guy that wears on people as the game continues to go."
Vanderbilt coach Derek Mason said he learned Thursday that his number of available players would be limited by injuries and contact tracing during the pandemic.
"These are challenging times, and I think in challenging times what you've got to do is just take it one day at a time." Mason said. The Commodores remain winless after having only 56 scholarship players available for this game, just three above the limit set by the Southeastern Conference for a team to play a game. Vanderbilt already had six players opt out of this season.
Gamecock linebacker Ernest Jones had a game high 13 tackles but his biggest tackle of the day came in the second quarter when the Commodores went for it on fourth-and-2 at the South Carolina 3. Vandy freshman quaterback Ken Seals rolled right and wound up being tackled by Jones, missing the chance to throw to an open receiver in the end zone or run himself.
After the game Jones said, "We had a chip on our shoulder because we were 0-2,"
South Carolina hosts Auburn next Saturday (Oct. 17) at noon at Williams-Brice Stadium in Columbia, SC. Vanderbilt plays at Missouri on Saturday night.