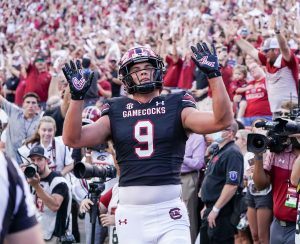 In a battle to avoid the SEC basement, it was fitting that the game would come down to a storybook finish as South Carolina came away with a dramatic 21-20 victory over Vanderbilt.
After Commodore kicker Joseph Bulovas booted a 28-yard field goal to give Vandy 20-14 lead with 1:36 to play, many of the sparse homecoming crowd of 64,695 headed for the exits thinking that the Gamecock had hit rock bottom by losing to Vanderbilt, snapping their 16-game SEC losing streak.
South Carolina had one last chance and head coach Shane Beamer benched starting quarterback Luke Doty after a lacklustre performance. He put his faith and trust in former graduate assistant coach/player Zeb Noland to try to pull off a miraculous come from behind win. He had already led Carolina to two wins the first two weeks of the season while Doty was out with an injury.
Noland did not disappoint. He drove the Gamecocks 75 yards in 8 plays and tossed a 9-yard touchdown pass to Xavier Leggette with 0:37 remaining. Parker White added the extra point and South Carolina escaped an embarrassing loss. Carolina came into the game as an 18-point favorite.
"It's those moments you dream of as a kid. You always think about it," Noland said at a postgame press conference. "I'm in my whatever year of playing and you still dream about those moments. Even at practice every day, you still think about making those throws and doing your job, and that's what it came down to."
South Carolina took the opening kickoff and marched 75 yards on 12 plays and scored on a two-yard pass from Doty to Nick Muse to give the Gamecocks a 7-0 lead. South Carolina scored again to take a 14-3 lead in the first quarter, but after driving to the Vanderbilt 14-yard line on 4th down and 4 yards to go, Beamer choose to go for it and passed up the sure field goal. Doty's fourth-down down pass was for no gain and the Gamecocks did not threaten again until the final drive.
The Carolina offense, that has been anemic this season, lost two fumbles, threw two interceptions and had 10 penalties for 78 yards.