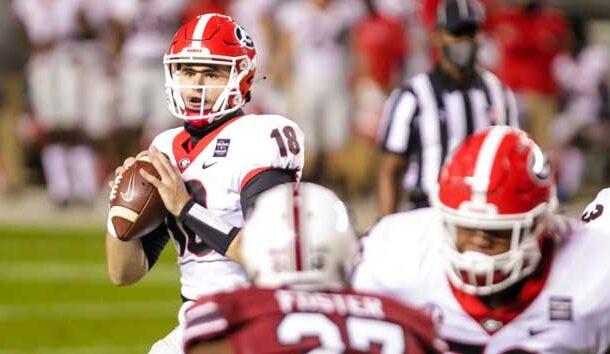 Georgia's 45-16 win over South Carolina on Saturday was the largest victory margin in the series since 2015. But Bulldogs coach Kirby Smart knew that the South Carolina roster was a mere skeleton of the roster they had going into the season.
The Gamecocks were missing more than two dozen players and offered little resistance. Georgia scored on its first three possessions to take a 21-0 lead and were never challenged. The Gamecocks never gave up, scoring 10 points after Georgia took the 21-0 lead.
When asked if the Bulldogs played their best game of the year, Smart said, "It's hard to say that because of the quality of the competition."
He was pleased with the fast start and the 332 yards his team gained on the ground.
"They didn't play down to that level," Smart said. "They knocked people off the ball."
James Cook ran for 104 yards on just six carries and three other Georgia backs had at least 77 yards. Zamir White ran 13 times for 84 yards; Kenny McIntosh had 79 yards on nine carries, and Daijun Edwards ran 14 times for 77 yards. The Bulldogs didn't attempt a pass after quarterback JT Daniels connected on a 31-yard touchdown pass to Arian Smith on the first play of the fourth quarter which gave Georgia a 45-10 lead.
Watching the Gamecocks play over their five-game losing streak has been like watching a Rocky movie. South Carolina has been punched and pounded, and knocked to the canvas, but keeps getting up does not quit. The pregame injury/opt-out report listed 13 starters on the sideline, with 12 more non-starters behind them. The Gamecocks were fortunate to have had enough players to play. Many of the players that had to play were freshman and players that were not even on the depth chart at the beginning of the season.
Almost 20 players couldn't play because of injuries or COVID-19 issues. Another seven players have opted out, several since the school fired head coach Will Muschamp. South Carolina's team was without leading receiver Shi Smith and SEC sack leader Kingsley Enagbare.
"Part of being a man is you don't make excuses, and you don't let people make excuses for you. It's how you respond to that," South Carolina interim head coach Mike Bobo said. "We went out there and we played ball. If you're on the field and wearing a Gamecock uniform, you need to fight your (butt) off."
Bobo said he was proud that the players he had fought hard and didn't give up even as Georgia tried to score in the closing moments.
Gamecock safety Jammie Robinson, who led the team with 10 tackles and had an interception said, "It's very frustrating. You lose your best players and you feel like you're having to start from the bottom of the depth chart. The guys that came in gave their best effort."
South Carolina senior tight end Nick Muse had a career high 131 yards on eight catches, including his first touchdown as a Gamecock.
On the final South Carolina offensive possession of the game, the Gamecocks showed a lot of heart and character by driving 98 yards for a touchdown.
"I've been proud of these guys the last couple weeks," Bobo said. "When things haven't gone well, there's been a continuation of fight and effort and strain. Offensively, they've been led by Sadarius Hutcherson up there. We got it on the two and said 'let's go 98.' The guys played for 60 minutes. They didn't look at the scoreboard; obviously it wasn't in our favor. To do that at the end of the game with some young players in there, Luke Doty and Rashad Amos busting a run, and I can't say enough about (tight end) Nick Muse and the way he played. Nick is made of the right stuff; he really is. He's what you want as a Gamecock because he cares. It's important to him and it shows in his play."
Muse also talked about the 98-yard drive and his first Gamecock touchdown. "It's impressive. Like I said earlier, it shows that no one wanted to quit. It was some people's last game at Willy-B, and it (the drive) showed that we belong with those teams. Whether we have you know 15 people out from injury or opt outs or whatever it is, but it shows that whoever is out there is going to give it their all.
"We had miscommunication on kickoff return which is why we started on the two, but stuff like that happens; you can't let that get you down. You just got to keep rolling, keep working with it and that's the hands we were dealt. We made made plays to get 98 yards and got in the end zone. We had the perfect play called. I think they got mixed up with who they had. Luke trusts me and threw it to me and I just had open space, but it's definitely a good feeling, when you got the whole stands sitting there cheering you on," said Muse.
South Carolina freshman quarterback, Luke Doty got his first career start and played the entire game. He shared his thoughts on the final drive.
"It shows the type of character that we have on this team," he said. "Guys never gave up; guys never stop fighting and that drive right there just showed it. We all believed and knew that we were going to be able to execute the plan to just go down there and score, no matter what was going on. No matter what the scoreboard said, it didn't matter. We just had the mindset to go down there and put points up on the board."
Lindy's Sports Coaches Corner Post Game Report: Georgia vs South Carolina – YouTube