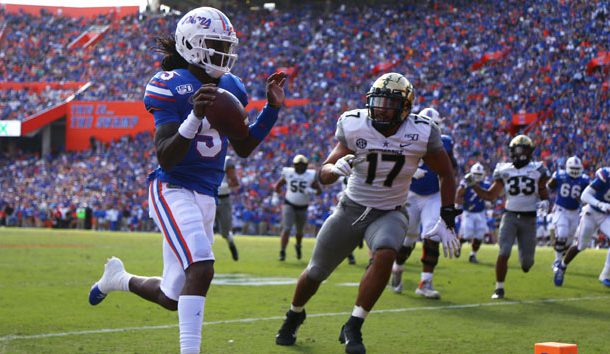 GAINESVILLE — Florida's 56-0 beatdown of Vanderbilt on Saturday came on the heels of a loss to Georgia.
Last year, a surprising loss at home to Missouri came after another defeat by Georgia. This time, the Gators had wiggle room against a Commodores team that was buried, 34-10, by Mountain West cellar-dweller UNLV on Oct.12.
The offense struggled throughout the first half as Florida only led 14-0 at the break. The Gators struck for 28 points in the third quarter, one of the scores coming off of Jon Greenard's 80-yard fumble return, and in the end, they piled up 560 yards to only 120 for Vanderbilt.
"You're up 14-0 and kind of feel like you've dominated the game up to that point," Florida coach Dan Mullen said. "Even when it got to 28-0, Greenard's touchdown was a big deal. We're in complete control of this game, but you're a score or mistake away from this being a tight game, even if it didn't feel like that."
Pointing to last year's debacle against Missouri, quarterbacked by current Denver Bronco Drew Locke, wasn't really applicable because of the difference between the Tigers then and this Vanderbilt team. It didn't have to do with the profile of the opponent, but with the Gators themselves.
How could Florida be the best version of itself?
"It was about making a statement to ourselves of making sure we get our edge back," said Mullen. "There was disappointment from last week, but if you're a competitor, you compete. You can't wait to compete."
Behind Center: Both Kyle Trask and back-up quarterback Emory Jones had stellar days.
Trask set a new personal career single game passing record with 363 yards as he threw touchdown passes to Treveon Grimes and Kyle Pitts and ran for a score in the second quarter. He took over the reins in the fourth quarter of the win at Kentucky and has never relented. He has 18 touchdown passes this season.
"The receivers did a great job of getting open and our offensive line did a great job of just working really hard during practice and I think that showed today," said Trask, who came back strong from a pair of first half interceptions. "I think we could have put up a lot more, but I'm really proud of the way our guys performed today."
Jones had his own scoring eruption as he scored Florida's last three touchdowns of 13, 2 and 3 yards. He rushed for 34 yards on five carries and also completed 2 of 3 passes for 47 yards.
Widely Received: Mullen has developed a receiving corps that is deep and talented, and there are different facets to each player which make for tough matchups for the secondary. Mullen is a master play-caller and sets the players up according to their strengths, as well as to the weaknesses of the opponents' defensive backs.
It's not a group that will sport the same guy carrying the load each week. Pitts has been the closest as he has had a strong season at tight end where he leads the team with 42 catches totaling 548 yards.
The receiving unit has tallied an average of 275 yards per game.
"That's what it's all about – cheering your guys on," said Tyre Cleveland, who had three catches for 51 yards. "No receiver is selfish. We want everyone on the field to succeed and that's the approach that we take."
'Grimes 66-yard reception on the Gators' first play of the second half was his longest from scrimmage. He had six catches for 95 yards. There have been seven 90-yard receiving games from five different players during the season.
"In the summer, bonding together, working out together, trusting our abilities and the things we can do," said Cleveland about the receiving unit. "We never hate on the next guy. We love up on each other and want others to succeed."