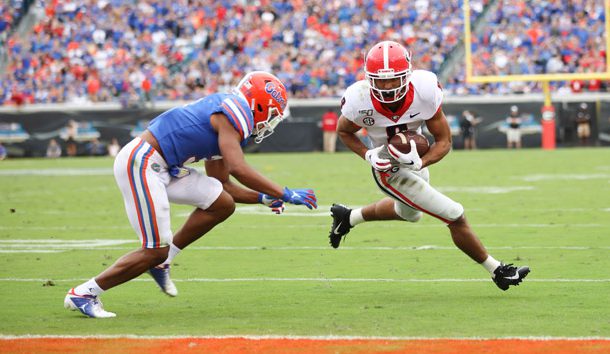 JACKSONVILLE — Although Georgia dominated the line of scrimmage on both sides of the ball for most of the afternoon in Saturday's 24-17 win over Florida in Jacksonville, the Gators stayed within striking distance for the entire outing.
Quarterback Kyle Trask hit Van Jefferson with a 23-yard touchdown pass with 13:51 remaining in the game to cut the Bulldogs' lead to 16-10.
Here is generally where Georgia head coach Kirby Smart likes to try to take over the game with his defense and allow quarterback Jake Fromm to be the game manager. In the past, a lack of offensive creativity and forward thinking has damaged the Bulldogs in an SEC Championship Game loss to Alabama and a National Championship Game loss, also to the Crimson Tide.
As late as this season, South Carolina went into Athens and won as Smart used the same mindset which probably cost him a shot to play for a national championship as the Gamecocks took a 20-17 win.
Saturday saw a different scenario though as the Bulldogs faced a 3rd-and-1 from their own 45-yard line after calling six straight running plays while trying to grind out the clock.
Fromm dropped back and faked a left end sweep to Brian Herrian. Wide receiver Lawrence Cager did the rest as he bolted up the left sideline and caught a 52-yard touchdown pass as Gators safety Shawn Davis went to the middle of the field and linebacker Ventrell Miller checked Herrian on the left side which freed Cager for the score.
"It was a great play call by Coach (James) Coley," said Cager. "We had practiced it all week — new play — thought we could get it in there on man coverage. We knew that they played a lot of 42 (defense), so we got the look."
Cager, a transfer from Miami, has worked to infuse a Georgia wide receiving corps that has generally had its struggles all season. He finished with seven catches for 132 yards. He missed the 21-0 win over Kentucky with a shoulder injury before healing further through last week's bye.
"I wasn't going to miss this game for anything," explained Cager. "I wasn't going to miss this game. I used to watch this game every year as a football fan. This is a great game, everybody knows that. Big rivalry, so I wasn't going to miss it."
Gator Getters: Florida had plenty of mistakes that put them at a disadvantage throughout the game.
On the opening drive, Coach Dan Mullen had to burn two timeouts as once there was the wrong personnel on the field and then there were 10 men on the field on another play.
Things spiraled downward from there as the third down percentages really told the tale of the game. Georgia was 12-of-18 on third down conversion attempts, while Florida was 0-for-8 until the 17-play touchdown drive late in the fourth quarter.
"You can go in any direction you want to go," said Mullen. "We had missed tackles; they got helped out a couple of times, and we missed coverage."
"Help" was huge as the officials had another bad afternoon. On Georgia's second drive of the game, Cager clearly dropped a pass on 3rd-and-6 at the Gators 22 which was ruled a catch on the field. Even after review, he was given credit for a 10-yard reception. Then, three plays later, Fromm hit Dominick Blaylock with a 3-yard scoring toss and a 10-0 lead.
"I felt like that told the story," senior linebacker David Reese, II, said about of the defensive inefficiency on third down. "We did a good job sticking around, but we had to get off the field, and we didn't."
Reese tallied six tackles as he has netted 300 during his Florida career.
Scrimmage Scrum: The Bulldogs controlled the line of scrimmage on both sides of the football and as they ran 67 plays to 52 for Florida as the Gators only had ran 35 before the last offensive drive. This equated to the Bulldogs holding the football for 35:48.
"We mixed up different looks," Mullen summarized. "There were 18 third downs and each one is going to be pretty independent to be honest with you. We had a penalty that gave them a first down; we had a 'call stands,' which I thought that was one of the biggest plays of the game."
On the flip side, the Florida running attack never got started as the Gators rushed for 21 yards on 19 carries and 48 total before figuring in 29 yards lost on two sacks.