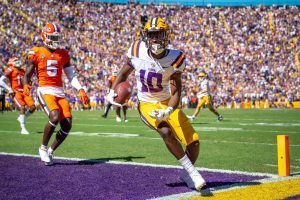 Few people gave reeling LSU, a 12.5-point underdog, much chance to defeat visiting Florida on Saturday.
But the fourth quarter had become a back-and-forth high-powered slugfest, tied at 42 points with less than four minutes left in the game. That's when wide receiver Jaray Jenkins, already with two touchdown receptions in the game, made his biggest catch of the day.
With fourth-and 1 at the Gators 1-yard line, quarterback Max Johnson hit Jenkins with what proved to be the final scoring pass of the day, the game-winner, giving LSU a 49-42 win.
Jenkins final scoring grab has been chosen as the U.S. Farm Raised Catfish "Catch of the Week."
For the game, Jenkins four catches for 50 yards and the three scores.
The other offensive star for the Tigers was tailback Tyrion Davis-Price who ran for an LSU record 287 yards and three touchdowns.
Remember … for the tailgate tent or the pre-game party, U. S. Farm-Raised Catfish is always "the winning catch."
The Catfish Institute, or TCI, was formed in 1986 by catfish farmers and feed manufacturers to raise consumer awareness of the positive qualities of U.S. Farm-Raised Catfish. Since its formation, U.S. per capita consumption has more than doubled.
U.S. Farm-Raised Catfish is a sustainable and environmentally friendly seafood product. The National Audubon Society, Monterey Bay Aquarium, and Environmental Defense all recommend U.S. Farm-Raised Catfish as a safe environmental choice. To find out more, visit www.uscatfish.com.