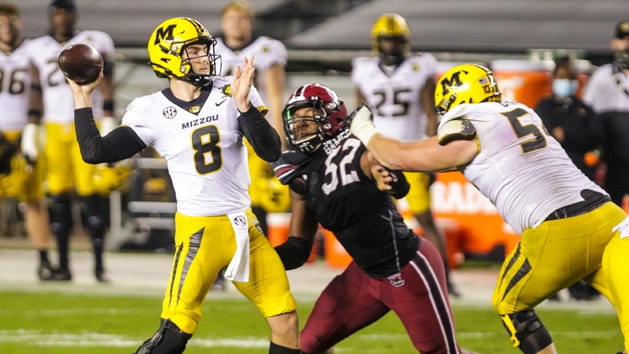 The annual Mayor's Trophy game for the Battle of the Columbias between South Carolina and Missouri was the story of two halves, as the Tigers held on for a 17-10 win over the Gamecocks.
In the first half, Missouri totally dominated the Gamecocks and took a 17-0 lead into the locker room. The Tigers ran 39 plays for 210 total yards on offense, while holding South Carolina to 68 total yards on 30 plays, The Tigers scored on three of their six possessions in the first half and had a pass intercepted on the Gamecock three-yard line.
Missouri scored first on Connor Bazelak's 20-yard TD throw to Tauskie Dove midway through the opening quarter. Larry Rountree's 1-yard burst made it 14-0 and Missouri ended the half with Harrison Mevis' 20-yard field goal to head to the locker room up 17-0.
Rountree finished with 58 yards rushing, giving the senior 3,238 for his career and moving him past Zack Abrom who played from 2000-03. Only quarterback, Brad Smith is ahead of Rountree's school career rushing total with 4,289 yards.
South Carolina, which lost its star play-making receiver, Shi Smith, to a concussion on their first offensive series, had the ball seven times in the first half and punted six times. Gamecock starting quarterback, Collin Hill was ineffective completing 6 of 10 passes for 39 yards, and he was sacked twice. South Carolina running back Kevin Harris, the SEC leading rusher going into the game, was limited to 58 yards rushing on 16 carries.
The Gamecocks were looking for a spark in the second half and turned to highly touted true freshman quarterback Luke Doty. He did not let his team down as he rallied South Carolina back with his passing and with his feet.
Carolina cut the score to 17-10 in the fourth quarter after Deshaun Fenwick's 1-yard run. South Carolina had one last chance to tie the score with the ball on its 1-yard line with 2:37 left. The offense drove to its 36 before an interception with 53 seconds remaining left gave the Tigers the seven-point win.
Doty, the freshman quarterback, led South Carolina in passing with 14 of 23 for 130 yards and one touchdown and ran for 59 yards on 11 carries.
His play also sparked the Gamecock defense, a defense that had allowed 55 point per game and over 500 yards of total offense in the last three games. In the second half, the South Carolina defense held Missouri scoreless and only gave up 89 yards of total offense on 28 plays.
South Carolina linebacker Ernest Jones said that the team dedicated the game to former head coach Will Muschamp and didn't give in when Missouri started fast.
"Nobody on this team quit tonight," Jones said. It was the fourth consecutive loss for South Carolina (2-6), which fired Coach Muschamp last Sunday and took a half to get itself going.
Mike Bobo, the first-year offensive coordinator, elevated to interim coach, talked during the week about settling nerves and restoring effort for a fragile group of players. But during the week, several players opted out for the season, including three starting defensive players in the secondary. In addition, Bobo said two defensive line starters, Aaron Sterling and Brad Johnson, were lost for the year with injuries.
One of the players that decided to keep on playing was senior offensive lineman, Sadarius Hutcherson. Hutcherson, who is in his fifth season at Carolina, is the Gamecocks most experienced player. He has started more than 25 games in his career and has played multiple positions on the offensive line.
He said that he chose not to opt out because he didn't want to quit on his team.
"My guys need a leader; they look up to me, and it just wouldn't be right for me to leave," Hutcherson said Saturday. "My mom and dad always raised me to finish what I started and that's what I'm going to do. I will play any game, and if we have a bowl game, I'm still going to play with them regardless of what happens."
After the game, Bobo said that he was proud of the team for not giving up after everything they had been through during the week and the adversity they went through in the first half.
Missouri hadn't played since Oct. 31 because of a bye week and a postponement of their game last week with Georgia. Tiger head coach, Eli Drinkwitz wasn't sure he'd get to play this one either with his dwindling roster.
Coronavirus has severely impacted the Tigers. They had just 52 scholarship players available this week and defensive coordinator Ryan Walters remained at home because of contact tracing concerns. Drinkwitz said he was proud of his team and they did not let the obstacles they've faced this season keep them from success.
South Carolina closes out its home schedule Saturday, Nov. 28 with a 7:30 p.m. kickoff against Georgia.