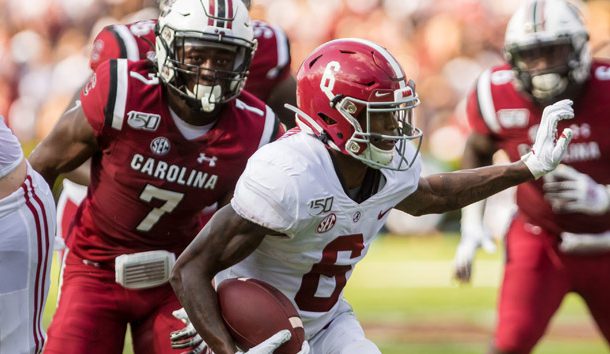 Alabama All-American quarterback Tua Tagovailoa  threw for a career-high 444 yards and five touchdowns to help No. 2 Alabama open Southeastern Conference play with a 47-23 victory over South Carolina on Saturday at Williams Brice Stadium in Columbia SC. The win snapped a two-game losing streak to the Gamecocks.
Alabama Head Coach Nick Saban reminded his players, almost all of whom were in middle or elementary school in 2010, about the Tides' previous game here when the top-ranked Tide were soundly beaten, 35-21.
The Gamecocks did not have an answer for the Crimson Tide's big play passing game.
"As a quarterback, you have to expect to throw the ball a lot whether you want to or not," Tagovailoa said.
He completed 28 of 36 passes and DeVonta Smith and Henry Ruggs III both surpassed 100 yards receiving. Smith had 136 yards on eight catches, including two TDs. Ruggs had six catches for 122 yards and one touchdown.
The passing numbers were gaudy, but Saban said his team must show more balance offensively.
"It's great that we're a great passing team," he said. "I also think from a team standpoint, we need to be able to run the ball well." The Crimson Tide finished with just 76 yards rushing compared to 495 passing.
South Carolina tried anything they could to pull off another upset, but were unable to take advantage of their opportunities and make the big play when they had the chance. Parker White's fake field goal run for a touchdown was called back because of holding. Alabama snuffed out a fake punt to stop the Gamecocks well short of a first down. And when South Carolina drove to Alabama's -yard line on the final play of the first half, freshman Ryan Hilinski's pass to the back of the end zone was off target.
South Carolina head coach Will Muschamp said his team's errors near the goal line cost them the chance to keep things closer. Muschamp went on to say that when you get in the red zone against a team like Alabama you must score touchdowns and not kick field goals.
"I thought we made some nice drives today, but we didn't get what we wanted and that's to win the game," said Muschamp.
Gamecock freshman quarterback Ryan Hilinski threw for 324 yards and two touchdowns in his second career game after South Carolina starting quarterback Jake Bentley was lost for the season in the season's opener. South Carolina running back Rico Dowdle rushed for a game high 102 yards on 12 carries. Gamecock receiver Bryan Edward had carrier high nine receptions for 79 yard and Shi Smith had six catches 90 yards and one touchdown.
South Carolina was able to move the ball on the Alabama defense as they ran 86 plays for 459 yards. They also had 31 first downs and only had to punt twice during the game.
The Crimson Tide is now (3-0, 1-0), while the Gamecocks are (1-2, 0-1).
Alabama returns home to another daytime kickoff when it plays Southern Miss on Saturday.
South Carolina plays its first SEC road game when it faces Missouri on Saturday.
Lindy's Sports College Football Post Game Report