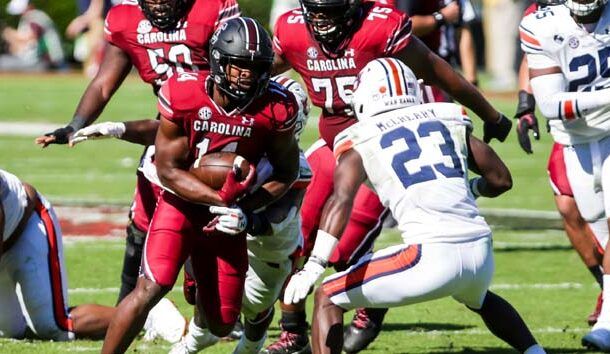 South Carolina came into Saturday's game against Auburn looking to do something that they had never done before and that was to beat the Tigers in Southeastern Conference play. The Gamecocks had defeated every other SEC foe except Auburn.
At the end of the day, the Gamecocks rewrote history after coming from behind to tame the Tigers, 30-22. South Carolina won for the first time in 87 years as Auburn had won eight consecutive in the series.
Auburn looked like they were going to put the Gamecocks away early scoring on a Anders Carlson 35-yard field goal and an 11-yard pass from quarterback Bo Nix to Eli Stove on their first two possessions to open up a 9-0 lead. The Tigers later led 16-7 on a Tank Bigsby four-yard run.
However, Nix threw two first half interceptions leading to 14 South Carolina points and kept the Gamecocks within striking distance. South Carolina's first score came on a 3-yard run by Kevin Harris and their second score came on a 1-yard plunge by quarterback Colin Hill just before halftime to cut the Auburn lead to 16-14 at intermission.
South Carolina Coach Will Muschamp talked about going to the half only trailing by two points and keeping it close.
"We were not playing well as an offense in the first half. Our defense did a great job at creating turnovers for us and keeping us in it. They did a great job with the tempo that Auburn brings. Those stops and those turnovers were huge for us. To go into halftime down just two points kind of encouraging knowing that we had barely scratched the surface offensively, but we were still right there with them."
Hill said that only being down by two points at the half made the Gamecocks feel pretty good because he knew that his team had not played well on offense in the first half but were still only down 16-14.
In the second half, the Gamecocks finally took the lead 20-19 on a 10-yard pass from Hill to Shi Smith with 6:31 remaining in the third quarter.
After Nix threw his third interception of the game, South Carolina extended their lead to 27-19 on a Harris 8-yard touchdown run with 0:54 seconds remaining in the third quarter.
In the fourth quarter, both teams exchanged field goals, and the Gamecock defense was able to hold off a last second drive by Auburn that ended on the South Carolina 11-yard line as time expired and they came away victorious, 30-22.
The star of the game for South Carolina was defensive back Jaycee Horn, son of former NFL star, Joe Horn. Horn intercepted two passes and tipped a pass that was also intercepted. After the game, Horn said that statistically that was probably the best game he ever played as a Gamecock,
He also said it was extra motivation for him being assigned to Auburn receiver Seth Williams, one of the best receivers in the Southeastern Conference, averaging 18 yards per catch. Williams finished with four catches for 74 yards, but no scores.
Horn is a junior who's been a lockdown corner most of his career.
"I heard a lot of people saying I don't have any ball skills, which is crazy to me," Horn said. "I just knew the day would come when I'd have a lot of opportunities to make plays."
"If there's a better corner out there I want to see them," Muschamp said. "The guy is an outstanding football player, got two interceptions; he caused the other one on a tipped pass. He and Seth Williams battled all day; we matched him up on Williams and felt good about where we were going to be in those situations. He made some really nice plays on the ball. The guy has always had really great ball skills. He's a heck of a player and I'm happy for him, just wish he would've gotten in the end zone on that one return."
"If a team throws at him like that every game, he'll have a game like that every game," Gamecocks receiver Shi Smith said.
South Carolina had not won back-to-back games since defeating Kentucky and then No. 3 Georgia last season. That win over the Bulldogs was the last time the Gamecocks had beaten a ranked opponent.
South Carolina (2-2) next travels to Baton Rouge, La., for a match-up with defending national champion LSU. Auburn travels to Oxford, Miss. for a game against the Ole Miss Rebels.