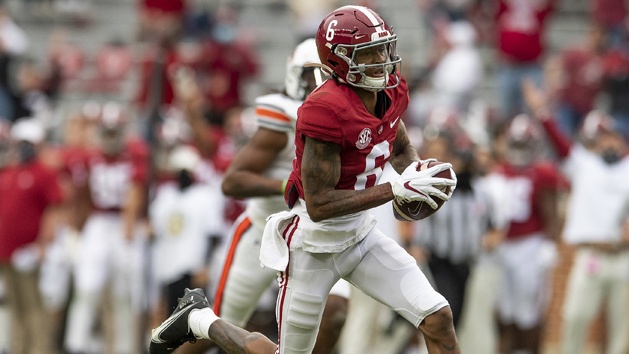 Some teams never get to play the nation's No. 1 team.
Some find the nation's best on the schedule occasionally.
Then, there's Auburn.
The Tigers had the unusual opportunity (some might say misfortune) to play the No. 1 ranked team twice in a 24-hour period.
On Friday, Bruce Pearl's basketball team faced off against nationally top-ranked Gonzaga in a game pitting the two winners from the opening day of the Ft. Myers Tip-Off Classic in Florida. Auburn lost by 23 after trailing by 14 at halftime.
On Saturday, Gus Malzahn's football team took the field against nationally top-ranked Alabama in the annual Iron Bowl rivalry game. Auburn lost by 29 after trailing by 18 at intermission.
The few in attendance, along with those watching on national television, saw why the Bulldogs and the Crimson Tide sit atop the national polls. They are the best in their sport right now and it will take a really good team playing a really good game to dethrone either team.
Auburn couldn't keep up with either one. That's not a knock on the two Tiger teams. They're both pretty good, better than average and those programs haven't exactly been taking nosedives in recent years.
But, it is high praise for both opponents. Despite the challenges of coronavirus, shuffled schedules, postponed games, delayed and altered practices and general uncertainty day-to-day, both are unscathed so far. Alabama is near the end of what could be another prefect season and national title.
Gonzaga is just at the start of what could be a national championship season. Lindy's picked the Bulldogs No. 1 in our preseason college basketball edition.
It is immeasurably more difficult to have an undefeated season in college basketball … many more games, much more travel, less depth to deal with injury, playing several games each week rather than four each month. No college team has gone undefeated since Indiana did it 44 seasons ago (1975-1976).
After watching the 'Zags defeat Auburn, I received a text message from a basketball columnist. It simply said, "Nobody south of an NBA team will touch Gonzaga. Incredible."
He may be right. Not sure that they wouldn't also win some of those NBA match-ups. They appear to be that good.
Back to Alabama.
This is a really solid football team, outstanding in every aspect. It has three offensive players that deserve to be in the Heisman Trophy discussion … running back Najee Harris, wide receiver DeVonta Smith and quarterback Mac Jones. Because it has three, it may end up without the trophy.
The offensive line is especially impressive with size, quickness, depth and experience. Same for the defensive line.
From my perspective, that was the biggest difference in Alabama's win at Bryant-Denny.
The 2020 Alabama team returned a lot of depth and experience in the line on both sides of the ball. Auburn lost four of five starters on the offensive line and three regulars on the defensive line, including Derrick Brown and Marlon Davidson, the two best together on a Tiger D-line since the late 1980s. That difference showed on Saturday.
Jones had an outstanding day for the Crimson Tide with 302 passing yards. Auburn quarterback Bo Nix threw for 227 yards and ran for a touchdown. Both are good at their position. The primary difference on Saturday – On most passing plays, Jones could stand untouched while receivers ran their routes. On most passing plays, Nix ran for his life while receivers ran their routes.
"The frustrating thing for me is we never really got close enough to apply any pressure on them," Malzahn said after the game. "They could play loose really the entire game."
Could not agree more and it will likely be the same regardless of the opponent. Alabama's other victory margins this season have been 60 points (Kentucky), 31 (Tennessee), 28 (Texas A&M), 19 (Missouri), 17 (Georgia) and Ole Miss (15 points, but Bama scored 63 in that one).
It's hard to see the Crimson Tide losing a game in the regular season or the postseason, including the College Football Playoffs. They have been much more impressive than any team this season. No team has finished close to them and there's no reason to think that will change.
On to Gonzaga.
Like Alabama, the Zags, led by head coach Mark Few, sit atop all of the early season polls. Coming off a 31-2 season a year ago, they lost several double-digit scorers from that team, but return other double-digit scorers and play several upperclassmen. They brought in the nation's ninth rated signing class, highest in the West Coast Conference. Four Bulldogs were named to the Lindy's preseason All-WCC team.
Before defeating Auburn, the 'Zags knocked off No. 6 Kansas, pretty much controlling the game. They led by eight points at halftime, won by 12 and had three players score at least 23 points. It was the 600th career victory for Few.
In contrast, Auburn lost its top six scorers from the 2019-2020 team, with the leading returning scorer averaging 4.2 per game. The line-up that faced Gonzaga included 11 freshmen and sophomores, with just one junior. The Tigers brought in the nation's 12th best recruiting class, third in the Southeastern Conference trailing only Kentucky and Tennessee.
Before losing to Gonzaga, the Tigers defeated St. Joseph's, 96-91, giving head coach Bruce Pearl his 588th career win. Four sophomores and one freshman scored in double figures.
For Tide and Bulldog fans, Auburn should be a good judge of No. 1 teams. They've had enough history going against them, especially in recent years.
Of course, SEC basketball teams are used to playing against Kentucky teams that have been No. 1 ranked. And the final game of the 2018-2019 season ended in Minneapolis with the narrow, highly controversial loss to No. 1 Virginia. Remember, regardless of the blown double dribble and three-point foul calls, the Cavaliers were crowned champion.
In football, facing No. 1 has been more common. In the past eight seasons, Auburn has defeated Alabama twice when ranked No. 1 and lost to three other No. 1 Tide teams. The Tigers defeated No. 1 Georgia three seasons ago, and No. 1 LSU's toughest game of the 2020 season was against Auburn in Baton Rouge, a 23-20 margin.
Malzhan acknowledged the magnitude of the Tide's superiority in postgame comments.
"You have to be big boys," he said. "You have to take it like a man. They got after us. They whipped us."
For Alabama, and probably for Gonzaga, that will be the case against whatever team they face.