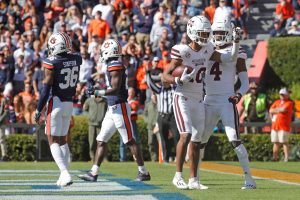 Mississippi State has played a special role in my life of keeping up with colleges and college football.
On Nov. 9, 1957 … 64 years ago this week … my dad, who had played football at Auburn, took me to my first college football game. It was Auburn and Mississippi State at Legion Field in Birmingham and I had just turned 10 years old.
The No. 17 ranked Maroons (that's how State was known back then, not changing to the Bulldogs until 1960), had a 7-0 halftime lead on No. 3 Auburn. Tigers' All-American end Jimmy "Red" Phillips from Alexander City had been injured during the game and State's back-up quarterback Tom Miller's touchdown pass to Ned Brooks had been the game's only score. Billy Atkins scored two second half touchdowns and Auburn won, 15-7. That team went on to be undefeated, beat Alabama 40-0, and won the national championship.
When it came time for me to apply for college admission, I sent my ACT scores to Auburn. When instructed to send an application to another college, I sent it to Mississippi State.
Since that first game in 1957, I've attended 56 more Auburn-State games, either in the press box, on the sideline or in the stands as a student, fan or sports journalist. Before Saturday, Auburn had won 42 times, State 14. Make that 15 for State now, this most recent game setting some all-time abysmal marks for me.
** The worst collapse by a team that I've ever seen in-person – any team, anytime, anywhere.
** The greatest difference in level of performance between a first half and a second half of any game that I've attended. It was college football's version of Jekyll and Hyde.
** From an Auburn perspective, the most disappointing, pathetic, inexplicable, disheartening, shocking, ignominious (pick your own adjective) loss in all of Auburn football history.
I realize that is a big statement … "in all of Auburn football history."
Since the final seconds ticked off the Jordan-Hare scoreboard, I've been trying to think of any Auburn game that better fits those adjectives, but I can't think of one. I've wanted to … but I haven't been able.
Think about it.
** The game was played at Jordan-Hare with a raucous crowd of 80,000+ in the stands.
** Auburn had never lost a game in which it led by 25 points. The Tigers had a commanding 28-3 lead during a first half that they dominated.
** Mississippi State, a good SEC team with a prolific passing game, is far from a title contender. It had already lost to Arkansas (Auburn won in Fayetteville by 15 points), LSU (4-6 record, fired its coach), Memphis (5 losses including Temple, Tulsa, East Carolina and UCF), and by 40 points to Alabama.
** Auburn had something on the line. A Tiger win on Saturday and then against South Carolina, coupled with the Ole Miss 29-19 win over Texas A&M on Saturday night, would have sent the winner of the Iron Bowl in two weeks to Atlanta to play Georgia for the SEC Championship.
A long shot for Auburn? Maybe, but consider the history for the last two decades before deciding. No opinions here, just the facts on what has happened. Auburn has won the last two games against Alabama played in Jordan-Hare, won three of the last four, and six of the last 10 played there.
Nick Saban has never won against an Auburn team with at least nine wins, not while at LSU, not at Alabama. And, if Auburn had defeated State and South Carolina, an Iron Bowl win would have been the ninth and would have sent Auburn for a rematch with No. 1 Georgia.
Can you think of a more devastating Auburn loss ever when having such a big lead, and dominating a game with so much on the line, only to be obliterated in every aspect of the game when it counted most down the stretch?
Let me know if you can, because I can't.
Why did it happen?
Give credit to Mississippi State. Its quarterback, Will Rogers, is outstanding, helped by an array of outstanding receivers. Whatever the State coaching staff and players changed at halftime worked really, really well. This was the largest come-from-behind win in Bulldog history.
From the Auburn standpoint, the offensive line could never open holes for the running game and couldn't give quarterback Bo Nix time to run the offense, especially after intermission.
The Tiger defense often didn't rush more than three, seldom providing any pressure on Rogers, who had a phenomenal game (44 of 55 passing for 415 yards and six touchdowns). That side of the ball, which stymied State's prolific offense in the first half, fell apart. At halftime, they had only given up one offensive touchdown in the last eight quarters against three SEC teams, and that was the one scored by MSU with only about two minutes left in the first half. In the next two quarters, Auburn gave up five, while scoring only one.
Nix was inconsistent again, but at least we found out after the game that there was an injury factor. He played some of the game with a broken bone in his lower right leg, which probably only worsened the longer he played. His first half was All-SEC caliber, but not after the band performed.
Nix's overall numbers weren't bad (27 of 41 for 377 yards, two touchdowns and no interceptions). In fact, that's almost always good enough to win. But, in the second half, playing with the injury, Nix couldn't make the big play, overthrew receivers and was not able to have the significant runs that have highlighted his performance in games that the Tigers have won. Of course, part of that was also due to State's front seven outplaying Auburn's offensive front.
You have to admire Nix's courage and determination to play, his loyalty and desire to win for Auburn. Injuries are part of the game. But, the question will be asked … Should he still have been playing throughout that second half, limping through the effort to execute the offense? In a game of that magnitude, teams need their healthiest, most effective players on the field.
Why the collapse happened is irrelevant at this point. Mississippi State just outplayed Auburn, when it counted, on both sides of the ball, players on the field and coaches on the sideline.
So, what's next? Both teams have 6-4 records, have three conference losses and have much less to play for beyond defeating their in-state rivals. The Bulldogs will defeat Tennessee State next Saturday, and of course wants to win the Egg Bowl.
For Auburn, the season that still had so much promise when the State game started, still with so much to play for, imploded and virtually died in the second half on Saturday. With Nix, along with one of the nation's best placekickers Anders Carlson, not available, another win this season isn't guaranteed. And, regardless of what happens on Saturday against the Gamecocks in Columbia, nothing can bring the opportunity back.
Unlike after my first game between the Tigers and Maroons in 1957, if there is an SEC champion coming out of the Iron Bowl and if there is a 40-0 winner, it won't be Auburn with the title or with the 40 points.
What is left is the bitter memory – maybe more appropriately the haunting nightmare – of one of the worst losses in Auburn history, in some ways the worst loss ever. It will take a long, long time for that memory to diminish in the minds of Auburn people.