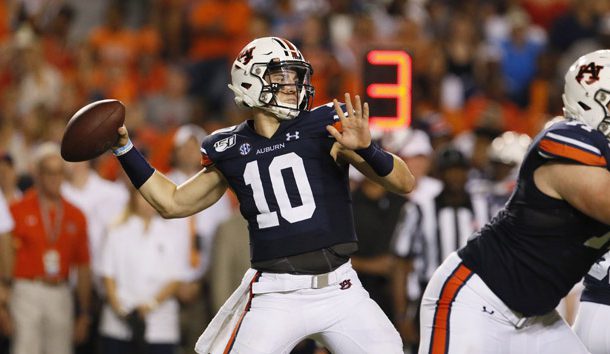 In a line from the play "The Tempest," written in about 1610 by William Shakespeare, the author tells us: "Misery acquaints a man with strange bedfellows."
Over four centuries, that line has evolved into the more recognized: "Politics make strange bedfellows," which certainly is applicable with all that is going on in Congress these days.
And, you can add "football rivalries make strange bedfellows" because that applies often during every season … especially this weekend.
Alabama, Florida and Auburn fans find themselves in the same bed, pulling against Georgia. Or at least all of the clear thinking ones do.
The Tide and the Gators desperately need a Tiger victory over the Bulldogs to strengthen, maybe keep alive, their damaged chances of making the SEC Championship Game or the College Football Playoff Final Four.
That will be difficult for many Alabama fans, pulling for their bitter in-state rival. It's been said that if the Taliban started a team and played Auburn, Bama fans would hoist the Taliban flag. Heard it vice versa, too. And, there's probably some truth to that. But, if they really want what is best for the Crimson Tide, they will be pulling for Auburn.
They will face the question – Are you really an Alabama fan or are you more an Anti-Auburn fan? Do you actually want what would be good for your team, even it means something good for the other team, too? Do you get more satisfaction when something good happens for Alabama or when something bad happens for Auburn? On Saturday, can't have it both ways.
Florida fans face the same question, but to a lesser and different degree. An Auburn win is needed to keep the Gators' faint hopes alive for the SEC Championship Game in Atlanta, while an Auburn win helps the Tide's diminished hopes for a spot in the CFP Final Four.
Of course, Florida always enjoys a Georgia loss, so the decision to pull for Auburn will be less difficult for them.
So, why does it matter?
Florida, despite the head-to-head loss to Georgia, is not mathematically out of the SEC East Division race. The Gators do have two conference losses … at No. 1 LSU, in addition to the Bulldog victory. But, all losses are not the same, and these were not bad losses.
Georgia has just one league loss … at home, to six-time loser South Carolina, who played the game with its third-team quarterback and didn't trail again after 3:00 remained in the second quarter. This was a really bad loss.
Florida has two SEC games remaining – Vanderbilt and Missouri – so unless something unexpected happens, the Gators finish with a 6-2 conference mark.
Georgia also has two SEC games remaining – Auburn and Texas A&M. Both of those teams are better than Vandy and Mizzou. In order for the Gators to play in Atlanta, the Dawgs have to lose both games and finish 5-3. That could start in Auburn on Saturday.
Unlikely? Auburn has won two of the last three in the series played in Jordan-Hare, each time with both teams nationally ranked. And, this Auburn team has faced a much more difficult gauntlet of opponents than Georgia, including games away from home against No. 6 Oregon, No. 1 LSU and No. 11 Florida.
If Georgia loses to Auburn, it would still have to lose to the Aggies the next week for Florida to have the title shot. But, if Georgia wins, the Gators chances are dead.
How about Alabama?
The only chance for the Crimson Tide to make the Final Four is to go as a one-loss team, chosen above other Power 5 conference champions. An Auburn win over Georgia would be critical for several reasons.
First, the Tide needs Georgia to have two losses entering the SEC Championship Game. That would pretty much eliminate the Bulldogs from the national picture regardless of the outcome against LSU.
Then, you have to account for the possibility that Georgia will defeat LSU in Atlanta. If so, a one-loss SEC Champion Georgia team would be chosen for the Final Four and in the unlikely chance that another one-loss SEC team would be selected, for certain it wouldn't be Alabama. It would be LSU, which defeated Alabama head-to-head on Bama's home field.
And, if a choice comes between Alabama and other one-loss teams, such as the Oregon-Utah winner, the Oklahoma-Baylor winner, or Big Ten teams Ohio State, Penn State or Minnesota, how much would strength of schedule be a factor?
At this point, Alabama's schedule is ranked No. 9 nationally by TeamRankings. That's good, but they trail No. 1 LSU, No. 2 Auburn, No. 4 Ohio State, No. 6 Florida and No. 8 Penn State, and are just ahead of No. 10 Oregon. Some of those teams would be in competition with Bama for position at the end of the season.
The won-loss records of Tide opponents doesn't help their cause. Their nine opponents have a combined 40-45 record and only three have a winning season. That record is nowhere near the top. Of their three remaining opponents, only Auburn has a winning record. The Tigers from east Alabama and the Tigers from Louisiana are the only two current nationally ranked opponents that Bama will face all season.
Alabama needs their opponents' cumulative record to improve and needs to move up in Strength of Schedule. A three-loss Auburn will only hurt that consideration. But, a two-loss Auburn, with wins over No. 4 Georgia and No. 6 Oregon, and losses only to the No. 1 and No. 11 teams, would qualify as a big win for the Crimson Tide if they can win in Auburn in late November.
Of course, Georgia may beat Auburn by 30 points. Florida could lose to Missouri. Bama may stumble in Starkville. And, LSU could fall to Ole Miss and Texas A&M. But, those things aren't likely.
But it is likely … make that certain … that Alabama and Florida need an Auburn win on Saturday for their chances not to be near-fatally damaged.
So, will those fan bases be clear thinking enough to be strange bedfellows with Auburn, even for just a few hours on Saturday afternoon, to pull for what is really best for their favorite teams?
We'll see.
Go Gators! Roll Tide! War Eagle!