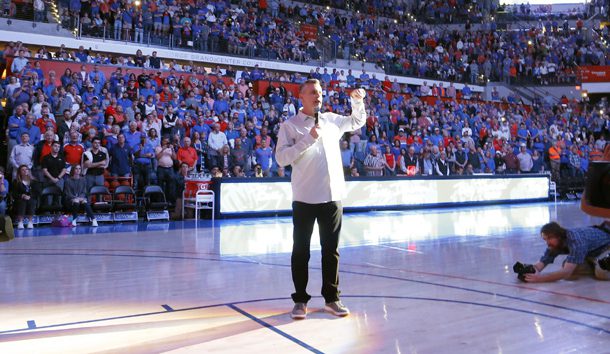 GAINESVILLE, Fla. – Last Saturday night at the O'Connell center on the University of Florida campus, Billy Donovan was recognized for his 19 years as the Gators' head basketball coach as the court was named in his honor.
It was my privilege to be there to cover that game and that honor.
I remembered the time after his first season when I drove to Gainesville to work his basketball camp. It was first season as high school coach in Wilkesboro, NC, and I was often worked camps, so I wanted to meet the Florida staff and learn things from people inside the game.
One thing that struck me was how Donovan got to know everyone around him and I was excited when he sat down one day at lunch to just eat, chat and get ready for the afternoon session.
He had coached at Marshall in Huntington, West Virginia, and told me he had been all over the country and had never heard a Southern drawl as deep as mine. We had a good laugh and moved on to the business of the afternoon.
I covered many of his games in Columbia, SC over the years when his Gators visited the Gamecocks, as well as in the SEC Tournament, which I will cover for the 20th time in March.
Donovan, like so many, struck a chord with me.
He is a humble dude who made Florida a blue-blood program when the Gators won back-to-back national championships in 2006 and 2007.
In 2007, I was at the championship game when the Gators took down Ohio State as the Georgia Dome in Atlanta which was filled with Gator fans. Many were on the other side of the stadium, away from the court. They had no worries as they watched it on the giant screen. They just wanted to be in the dome when Donovan and company cut down the nets for their second consecutive title.
When Donovan came on the court on Saturday night, he was predictably emotional and wanted to mention by name everyone that had impacted what he had built at Florida.
"I look at my name down there, I don't just look at my name, but I look at a lot of other people and their names," said Donovan.
Players, assistant coaches, support staff, managers, administrators, office workers – anyone who touched the program is who Donovan wanted to laud.
He had many talented assistant coaches, such as Larry Shyatt, Anthony Grant, Donnie Jones and John Pelfrey, to name a few. Jones, who is now the head coach at Stetson, was in attendance with his two children.
"I was blessed with an incredible amount of unbelievable assistant coaches over 19 years," said Donovan. "They gave hard work, dedication and commitment to have a shared vision. Some of them are here today. I just want to thank them all for their work and efforts."
Donovan also mentioned his mother and father as his dad, Bill, Sr., sat at the end of his bench for the duration of his career. He was like Billy, such an affable person who was easy to talk with and he had always had good story to tell.
"My dad sat on the bench for years," Donovan said. "It was a great blessing for me to have him around and to develop so many relationships with so many players in a really enjoyable ride."
There are so many Donovan could thank and his mentor, Rick Pitino, could be at the top of that list. He played for Pitino at Providence in the 1980s. I remember being a college student then and watching Pitino shoot the Friars into the 1987 Final Four which pushed Pitino to the top of the call lists for coaches and athletic directors.
After a couple of years with the Knicks, Pitino went to Kentucky where he resurrected the scandal-ridden Wildcats. Pitino had Donovan at his side for five years until Donovan left for Marshall as the youngest head coach in the game at age 28.
With that, Florida Athletic Director Jeremy Foley came calling after Donovan revived the moribund Thundering Herd in two years. Donovan agreed to come to Gainesville and the rest is history.
"At 30 years old, he (Foley) came to my house and we developed a relationship that is still extremely close yet even to today and we talk regularly," said Donovan. "The partnership, the bond, the communication, the visitation and the working together. I was blessed and fortunate to work for the greatest athletic director in the country – Jeremy Foley."
He rewarded Foley and the Gator fans immeasurably as Florida passed Kentucky as the face of SEC basketball. There were two other Final Fours in addition to the back-to-back championships, in addition to six SEC regular season titles and four SEC Tournament championships. In Donovan's era, Kentucky had only one national title in 2012.
That's not to say that the Wildcats weren't an issue as they always have been, but Florida was the calling card that the SEC needed to prove the league was again about more than just Kentucky.
As the second half neared on Saturday night with the Gators leading 48-19 over Vanderbilt at intermission in a game that they would eventually win easily, 84-66, Donovan acknowledged the entire Gainesville community.
"I want to thank the people here who are living in this community because I cannot think of raising a family in a better environment," he said. "This is home. This is home for all of us."
With that, I realized how impossible it felt to work his camp in 1996, then 23 years later cover the Florida basketball game where Donovan was recognized as an iconic coach with the court naming that brought forth his signature.