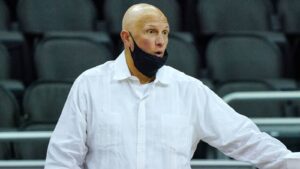 This week, at his end of the season press conference, South Carolina head basketball coach Frank Martin set the record straight on false stories and rumors about his job status. During his 73-minute press conference, Martin, who has always been a straight shooter, told the media "some of you guys need better sources. I'm a pretty good source and I tell you the truth!"
Martin told one media member, "I could have sworn you did not wanted to see me anymore with all the things that you put out there. That's your prerogative; you write whatever you want to write. But unfortunately, you are still stuck with seeing me and we will have to have fun with it."
On March 13, Phil Kornblut of the Sports Talk Media Network, broke a story saying sources that Martin would be meeting with athletics director Ray Tanner about multiple options from the University, none of which included remaining the head basketball coach. The story also included that a search committee was being formed to search for a new coach. This story tuned out to be false.
Martin said that this season was the most challenging year of his professional career and that it was really difficult and complicated personally.
In 36 years on the side court, 29 years as a head coach, Martin said that this was his only bad year. He said this season he did a "crappy job" of coaching and that he did not manage things the correct way, and some of the personal things he when through made things really difficult. He also said that he had done a poor job of leading this season. Martin was twice diagnosed with COVID and that he was in poor health for a good portion of the season.
He said that he had learned a lot this past season and is excited about his two-year contract extension. He confirmed that he is now feeling good and looking forward to moving forward.
"We are going to fix the things that we did wrong this season and see what the future holds," Martin said.
Coach Martin say that the reason that he did not have his press conference earlier was out of respect for Coach Dawn Staley and her women's team chasing the national championship.
"If you thought I was going to have a press conference about me during that time and be a distraction to Dawn and her team, then you are crazy," he said.
He went on to congratulate the Gamecock women on a great season.
When asked about the transfer portal rule allowing players to transfer and not have to sit out a year, Martin said that he and a group of coaches sat down with the NCAA and told them it was a bad idea and would cause many problems. He said that the NCAA did not listen to them and now over 2,000 basketball players have entered the transfer portal. Martin said that coaches are having to adjust to the rule by constantly recruiting your own team during the season to stay, while also trying to recruit new players to come in.
Martin is 153-134 overall at USC (53%) and 74-91 (45%) in conference games. He led the Gamecocks to a school record 26 wins and to the Final Four in 2016-17 in his one NCAA Tournament appearance with the program. The Gamecocks made the NIT the previous season. The Gamecocks had a streak of six consecutive non-losing seasons end this year, which was one of the most successful runs in the program's history. Until this season, the Gamecocks and Tennessee were tied for the third most wins in the SEC  behind only Kentucky and Florida over the past six years.
At the end of the press conference Martin offered to buy lunch for all the media members if they would sit down with him and discuss how all the doom and glum attitude and stories could come to an end!