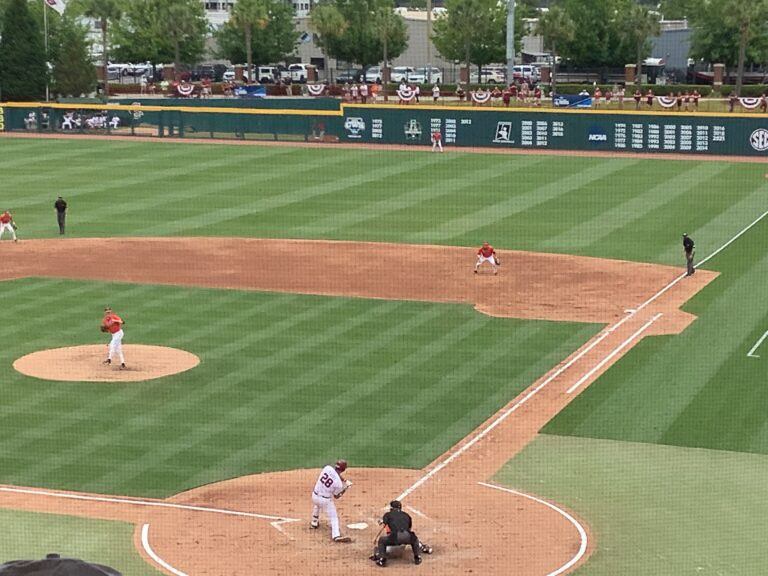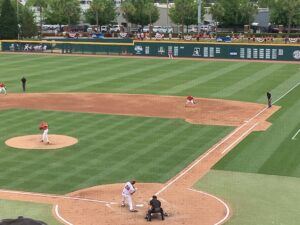 After an impressive 4-3 win over Virginia in their first game of the Columbia Regional, the South Carolina Gamecocks sunk quicker than the Titanic their next two games.
The Gamecocks were the No. 2 seed and hosting their first NCAA baseball regional since 2016.
Facing elimination in its Sunday game, the South Carolina bats were again a no-show as Virginia ended the Gamecocks season with a 3-2 win. The first two batters in the Carolina lineup were a combined 1-17 with eight strikeouts in the regional.
The Gamecocks had their chances in the Sunday game trailing 3-1 in the seventh inning. Brennan Milone led off the inning with a home run. Braylen Wimmer and Colin Burgess each followed with singles and South Carolina had runners at first and second with no outs.
The biggest play of the weekend came next when Joe Satterfield hit a frozen rope line drive up the middle that Virginia pitcher Zack Messinger caught, but then dropped the ball. He quickly picked up the ball and fired to third base to get the lead runner. Then the relay throw to second base completed the unusual double play. The next batter, George Calli, l singled but with the tying run at third and two out,s Brady Allen struck out to end the inning.
In the ninth inning, South Carolina had one last chance as Milone lead off with a walk, but Wimmer bounced out, and Burgess and Satterfield struck out to end the game and the Gamecocks season. Carolina finished the season with a 34-23 record. After the game, Gamecock Coach Mark Kingston said that his team had a good season, but not a great one. He was happy with the progress his team made this during the year.
"They battled their tails off all season long," he said.
Saturday night at Founders Park, in front of a sellout winners' bracket game crowd, the South Carolina batters were hit by the ball twice as many times (six HBP) as they got hits (only three) in a 2-1 loss to the regional No. 1 seed Old Dominion.
Wes Clark, the NCAA leader in home runs with 23, paced Carolina with a home run and a double in the 4-3 win over Virginia in the Columbia Regional opener. The Gelof brothers, Jake and Zack, each homered in the same inning to lead the Cavaliers.
Watch the video recap in the link below:
2021 NCAA Columbia Baseball Regional Report – YouTube