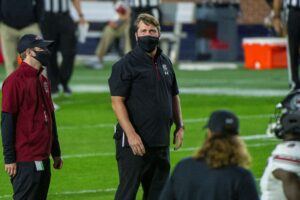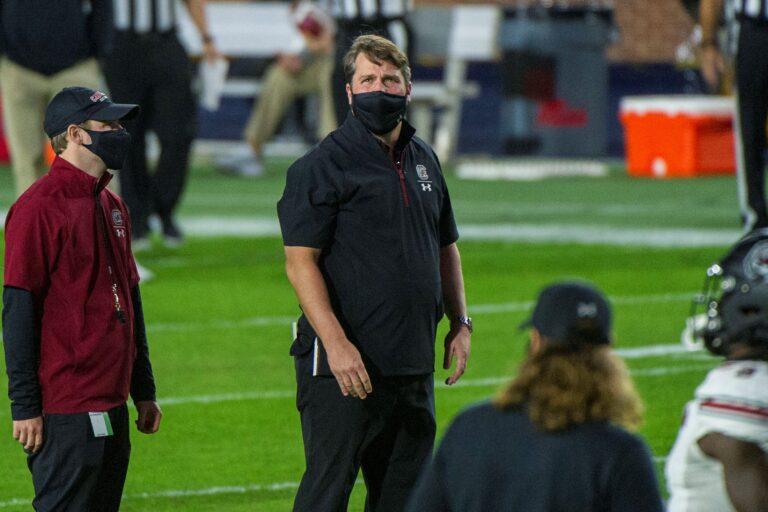 Oxford — After three consecutive embarrassing losses, the South Carolina Gamecocks decided to part ways with head football Coach Will Muschamp.
Coming into the season, Muschamp was on the hot seat, but seemed to have earned another season after the Gamecocks upset 13th ranked Auburn, 30-22, earlier in the season. But things have gone downhill fast since then.
There has been no D in the South Carolina defense over the past three weeks as the Gamecocks gave up an average of over 55 points and over 500 yards of total offense per game and only forced as many as three punts during this time. This has put pressure on the Gamecocks' offense to score on almost every possession.
University of South Carolina Director of Athletics Ray Tanner announced Sunday night that Muschamp is no longer the head football coach, effective immediately.
"With this announcement, offensive coordinator/quarterbacks coach Mike Bobo will serve as the interim head coach for the remainder of the season" said Tanner. University of South Carolina President Bob Caslen and Tanner met with the coaching staff and student-athletes on Sunday night to inform them of the change.
"After a thorough assessment of our football program, we have decided to make a change with the head football coach," Tanner said. "I appreciate all that Will Muschamp has done for our program and wish him and his family the best moving forward. I believe our program will be well served by Coach Bobo as the interim head coach as we search for a new leader for Gamecock football."
At the press conference on Monday, Tanner said the decision came down at the end of the day to the expectation to win ball games coming up short. He said the bottom line was that Muschamp needed to win more games, and that was the only thing he did not do when he was hired to be head coach.
The Gamecocks have lost 14 out of the last 20 games. Over the 4 1/2 years that Muschamp coached, he had a 28-30 overall record, including a 2-5 mark this season.
Tanner said there is never a good time to fire a coach, but with the football signing date coming up on December 16, there was a need to make a change now. He hopes to have a coach in place before the signing date if possible. He also shared that in January the NCAA may be allowing students athletes the opportunity to transfer to another school and not have to sit out a year. It would be beneficial for South Carolina to already have a new coach in place if that happens.
Muschamp's contract buyout is over 13 million dollars and the assistant coaches' buyout will add to that total. With the lack of revenue due to COVID, Tanner was asked if the Athletic Department could afford to pay a big name coach if they choose to do so. He said that he hoped the Athletic Department would have the necessary funds if that was needed.
The South Carolina Athletics Director also said that Interim Head Coach Mike Bobo was totally in charge of making any staff or personal changes necessary over the final three games.
Bobo said he came to South Carolina to work for Muschamp and when he found out that the head coach had been fired, he felt like he had let his long-time friend down.
"I felt like I did not get the job done on offense for us to win enough games" said Bobo.
Bobo shared that Sunday night was tough because the team lost their head coach, their leader and a father figure, while the assistant coaches lost a close friend. He also pointed out that his job as interim head coach, and the job of his assistant coaches, is to show the players how to live and deal with adversity and that begins with getting up and going to work each and every day.
"I plan to look at the offense, defense and special teams to see what changes if any that we need to make" said Bobo. "We are going to do whatever it takes to win and be successful."
Bobo went on to say that his biggest job will be to try to keep the team morale as high as possible the last three regular season games and possible postseason bowl game.
Gamecock graduate transfer starting quarterback Collin Hill went through this same scenario last year at Colorado State when his then-head coach Mike Bobo was fired. Hill was asked what he would share to encourage his teammates.
"It's still football; obviously it's not fun to go through transition, but you are still playing the game that you love, so come out and make the most of it and get better every day. It's hard, but it's still football" said Hill.
Some of the possible replacements for Muschamp are rumored to be Liberty head coach Hugh Freeze, Clemson offensive coordinator Tony Elliott and Louisiana head coach Billy Napier. Long shot candidates include Joe Brady, the offensive coordinator for the Carolina Panthers, and Coastal Carolina head coach Jamey Chadwell.
The Gamecocks return to action Saturday November 21 against Missouri in a trophy game for the "Battle of the Columbias" at Williams Brice Stadium.
Check out the Coach's Corner, click here … HERE