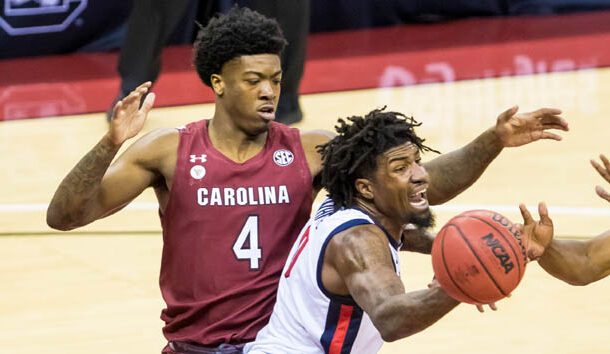 Fifty years ago, South Carolina fielded one of its all-time best basketball teams.
That squad, led by a veteran coach, featuring some of the greatest names in Gamecock hardcourt history, won the Atlantic Coast Conference championship, made it to the NCAA Tournament for the first time in school history and ended the season ranked No. 6 nationally.
The South Carolina Athletic Department and basketball program honored that team at halftime of the game against Ole Miss last week, celebrating the 50th anniversary of the team's title. Due to COVID-19 health and safety protocols, the celebration had to be virtual with a video tribute at halftime. Plans call for the championship squad to be honored in person at the program's annual Legends Weekend with the date to be set for February, 2022.
South Carolina captured the 1971 ACC championship on a last-second layup from Gamecock great Tom Owens. With time running out against North Carolina in the ACC finals and the Gamecocks down, 51-50, a jump ball was called with Carolina's Kevin Joyce, whose listed height was just 6-3, against UNC's 6-10 center Lee Dedmon. Amazingly, Joyce out jumped Dedmon and tipped the ball directly to Owens under the basket for a layup and 52-51. The Gamecock victory and ACC title advanced the team to the program's first appearance NCAA Tournament appearance.
The roster for that 1970-71 campaign included head coach Frank McGuire, assistant coaches Buck Freeman, Bill Loving and Donnie Walsh. Student athletes included John Roche, Dennis Powell, Casey Manning, Bob Carver, Kevin Joyce, Tom Owens, Danny Traylor, Tom Riker, John Ribock, Rick Aydlett, and Jimmy Powell. Roche led the team in scoring with 21.6 points per game, and Owens added 15.0 points and 12.9 rebounds per outing. Both players went on to have successful careers in the NBA and ABA. The team ended the season with a 23-6 overall record.
Current Gamecock Head Basketball Coach Frank Martin said that celebrating the history of the program is the best way to keep former players, present players and the community connected. Martin added that there is a responsibility to him and his players to make former legendary coaches and players proud.
"We have things a lot better than they had back then," he said. "It's part of the responsibility to show the players that this school has been number one in the country, and this school has won conference championships."
He said that he takes a lot of pride in the fact that he gets to represent the same schools that Hall of Fame and legendary coaches and players have represented.
The impact of legendary Coach Frank McGuire and this team put basketball on the map in the state of South Carolina. Football had been king in South Carolina, but now basketball became important and increased in popularity throughout the state.
From my personal point of view, these guys were my heroes growing up! McGuire and these players inspired me to make basketball a huge part of my life. I played basketball for many year, coached basketball for 37 years and now broadcast and write about basketball, thanks to the influence that Coach McGuire and his teams had on me.
The celebration of the 50th Anniversary of the 1971 South Carolina ACC Championship team brought back memories of the first time I met my childhood hero Coach McGuire. I was an assistant coach at USC-Spartanburg (USC Upstate) and we were playing a doubleheader with the Gamecocks at the Carolina Coliseum. Our team was playing Coastal Carolina and South Carolina was playing William & Mary right afterward.
Before our game I was walking around coliseum and ran into Coach McGuire. He invited me in to see his office and to talk. He showed me the pictures and plaques that he had collected over the years. He told me some great stories of his basketball coaching experiences and the great players that he had coached. He also told me how he had fought the politicians in the capital city to protect his basketball coaching job and to protect his teams. I will never forget how kind he was to me and the final thing that he said to me. He wished me good luck and said that if he could ever help me in any way to please let him know. As a young coach, you can imagine how that made me feel. Still today, Frank McGuire is one of my coaching heroes.
The Coaches Corner: Gamecocks 50th Anniversary of their 1971 ACC Basketball Championship team – YouTube