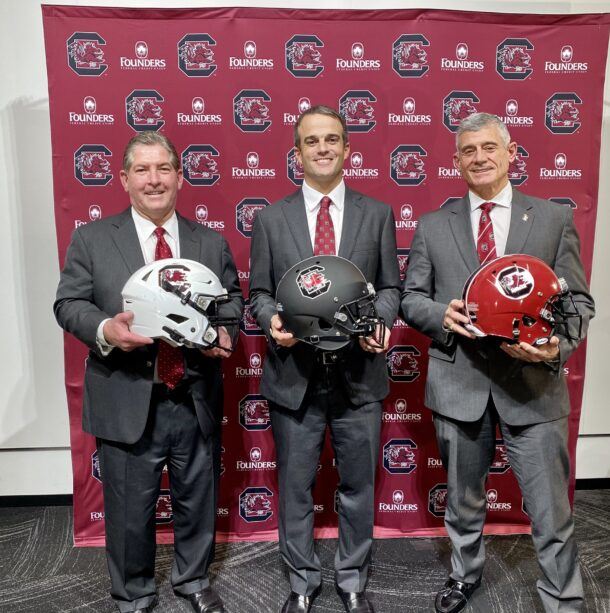 A new era for South Carolina football began on Monday as the Gamecocks introduced former Oklahoma assistant, Shane Beamer, as their new head coach.
Beamer, the son of legendary former Virginia Tech head coach Frank Beamer, was a longtime assistant coach and recruiting coordinator at South Carolina. During his earlier time at in Columbia, the Gamecocks had some of their best years in school history. Beamer played a big role in recruiting many of the South Carolina that currently play in the NFL.
When Beamer left South Carolina 10 years ago to join his father as an assistant coach at Virginia Tech, he told his wife that someday he would return to the Gamecocks to be their head coach.
After he accepted the job, he reminded his wife of his earlier statement. "Baby, we did it," he told her
During Beamer's time at the University of Oklahoma, he was heavily involved in all aspects of running the Sooners' program. He drew praise from OU Head Coach Lincoln Riley for his attention to detail and other attributes that made him a quality head coaching candidate.
Beamer shared with the media that his dad (Frank Beamer), a College Football Hall of Fame coach, would be a member of his staff at South Carolina. He went on to say that he had not set a timetable for when he planned to name all of his coaching staff.
Beamer still relies on his father's advice, whether Xs and Os and/or leadership, and he joked about the great golf courses in the Carolina area. He said that now with six of Frank's grandchildren living in the Carolinas, it insured that his dad would become a fixture, especially   and Frank's six grandchildren now residing in the Carolinas would only ensure that his dad would be a fixture around Columbia.
"Whatever excuse we have to get him down here … I'm pretty confident you'll be seeing him a lot around this program," the new head coach Beamer said.
The younger Beamer said that the South Carolina position had always been his "dream job." He was born in Charleston, SC when his father was coaching at The Citadel. Two of Shane's children were born in Columbia, when his father was a member of Steve Spurrier's coaching staff. He said that returning to Columbia was returning "back home."
"I believe that Shane Beamer is the perfect fit to be the head football coach at the University of South Carolina," South Carolina athletic director Ray Tanner, said in a press release announcing the hire. "He has worked under some of the greatest coaches in college football and has taken those lessons to become one of the bright, young minds in the game. I believe Shane's energy, enthusiasm, commitment and fondness for our school and program will be met favorably by our student-athletes, staff and fans."
"I have been preparing for this moment my entire life," Beamer said. "I am ready and excited to be the head football coach at the University of South Carolina. I am thankful to all the head coaches that I have worked for, the assistant coaches and student-athletes I have worked with. My family and I are thrilled to be coming back to Columbia and the state of South Carolina."
Shane hopes to bring to South Carolina's program his own version of "Beamer Ball."
"We may not use the term 'Beamer Ball' exactly, but playing that way and having that aspect as a part of our program is certainly something we're going to be about, "he said.
"Beamer Ball may be copyrighted up in Blacksburg," said Shane, who played and coached under his father there. "But when you talk about Beamer Ball, you talk about attacking, talk about the ability to score on offense, defense and special teams. That's what I think about when somebody says Beamer Ball."
Beamer, currently Oklahoma's assistant head coach for offense, plans to remain with the Sooners through the Big 12 Championship Game, and said he would pull double duty the next several weeks.
"It's very important to me to go back to Oklahoma and finish the season with those guys," Beamer said. "I want to be loyal to those guys. I talked to our players at South Carolina about trust and communication and loyalty and didn't think it was fair to have that conversation with them and then leave those guys high and dry at Oklahoma."
When asked what was the most important thing that he wanted the Gamecock fans to know about him, Beamer said that he was a family man, and that his family would be heavily invested in the community. He also said that he was a people person and like to get out and be around people and at the end of the day, he wants to live his life in a way that his wife and children would be proud of when he comes home every day. He emphasized that his faith is also important to him.
"I worked for 10 years to get back to this place," Beamer said. "The dream doesn't end here. It's just getting started."
Check out the Coaches Corner video HERE