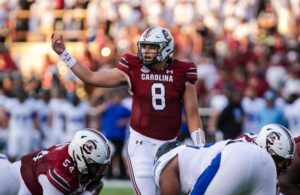 Three weeks ago Zeb Noland was a first year graduate assistant coach at the University of South Carolina. Saturday night Noland was the starting quarterback for the Gamecocks and threw four first-half touchdown passes, leading the team to a 46-0 win over Eastern Illinois.
It was the debut of "Shane Beamer Ball" in front of a crowd of 64,868 at Williams Brice Stadium.
Noland came to Columbia this spring as a graduate assistant after playing seven games for North Dakota State in the season delayed to spring 2021 because of COVID-19. But after South Carolina starting quarterback Luke Doty was injured in fall camp, the Gamecocks were down to only two scholarship quarterbacks on the roster. Since Noland still had one year of eligibility left, the Carolina coach staff approached him about making the transition from being coach back to the playing field.
After Noland's performance against the Panthers, Noland was asked what he can do for an encore and what his role would be when Doty is healthy again. Noland said he would be willing to do whatever needed to help the team. He also said that he had always dreamed of playing quarterback for a SEC school in a SEC stadium.
"It just hits different in the SEC," said Noland, who played high school football in Georgia. "It's all surreal to me. I never thought I'd get to do it again."
Noland said if the Eastern Illinois win ends up being the final game of his college career, he would have great memories. He finished the game 13-of-22 passing for 121 yards and four touchdown passes with no interceptions.
It was the debut for new South Carolina head coach Shane Beamer. He had promised "Beamer Ball" just like his dad Frank Beamer produced at Virginia Tech and his team delivered, holding the Panthers (0-2) to 109 yards and getting its first shutout in 13 years.
After the game Shane Beamer said, "People talk about Beamer Ball — that's what it was. You have the ability to score on offense, defense or special teams no matter who is on the field. We want to have that mentality,"
The South Carolina edition of "Beamer Ball" blocked two punts, intercepted two passes with one going back for a 61-yard touchdown, ran a successful two-point trick play with the kicking team on the field after their first touchdown and converted all three fourth downs it tried, including a fourth-and-goal from the 3-yard line. The hard-hitting defense also had two sacks. Beamer's team looked very crisp and well coached in its first game of the season.
Gamecock running back ZaQuandre White led the team with 129 yards rushing and a touchdown, including a 63-yard scoring run. White also had 39 yards receiving, leading the Gamecocks in that category, as well. White made his first start, filling in for preseason All-SEC running back Kevin Harris.
The Carolina offense ran 75 plays for 448 yards, while the Gamecock defense held the Panthers to 109 total yards on 44 plays.
South Carolina hopes to have Doty and Harris back next week when it travels to Greenville, NC to take on East Carolina.
Watch the video replay in the link below: