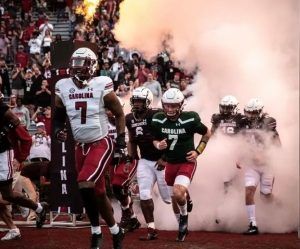 This time a year ago, Spencer Rattler, the incumbent Oklahoma Sooners quarterback, was a 2021 preseason Heisman Trophy favorite. This past Saturday, he made his debut as the quarterback for the South Carolina Gamecocks in the annual Garnet vs. Black spring football game.
Rattler became the highest-rated quarterback ever to take a snap at Carolina and he validated that ranking, leading his Garnet team to a 20-13 win in front of a crowd estimated over 30,000 people Williams Brice Stadium.
On the three possessions that he played, Rattler led the team to two scores. For the game, he completed 8 of 10 passes for 79 yards. His highlight of the game came when he avoided pressure and connected on a spectacular 16-yard deep sideline completion to James Madison University transfer Antwane Wells, Jr. The wide receiver was able to keep both feet in bounds on the acrobatic catch. When asked about the throw, Rattler said, "I threw a dime on that pass."
Rattler was asked what he has enjoyed the most about being at South Carolina.
"Just the overall vibe," he said. "This city, this town, you can feel the excitement for this team and the love for this team. That is big-time for us. When our fans have our back, we feel invincible. Great turnout tonight and that just made me even happier knowing that I made the right decision with how loyal these fans are and how happy they were to see us play.
"It was really fun getting out there," "What a great turnout with the fans. That was an environment I have never seen in a spring game before. It was a lot of fun getting out there and throwing it around. Getting a couple of runs and guys looked good."
Along with the environment inside the stadium, Rattler was blown away by how many fans came to greet the Gamecocks as they made their way into the stadium.
"It was like non-stop," he said. "You look left and righ, fans everywhere. I have never seen anything like that. Coach (Marcus) Satterfield said, 'Look at that and times that by 50. That's what it is going to be like during the season.' I can only imagine what it is going to be like."
"I thought Spencer (Rattler) did well," South Carolina head coach Shane Beamer said. "We had the play clocks going and we didn't really have any personnel issues or play clock issues. We were pretty clean from that standpoint.
"Certainly, we weren't showing everything, but it wasn't like we were limiting a whole lot either. There was nothing that we said offensively that we weren't going to do formation-wise or personnel groupings. There was nothing that I told [defensive coordinator Clayton White], 'Hey, don't blitz us or don't do this.' He could run anything that he wanted.
"There were some things that he didn't show defensively. Certainly, there are some things offensively that we did not do a ton of. I thought Spencer did a good job. Made some throws and had some receivers, tight ends and running backs make some catches for him too."
Beamer spoke about an aspect of Rattler's game that doesn't get enough credit.
"Spencer doesn't get enough credit for how athletic he is. They didn't run him at Oklahoma last year like they did with Jalen Hurts previously, but Spencer's athletic enough where he can run. He's not going to be a running quarterback, but certainly he can be a threat running the football so, pleased with him from that standpoint."
South Carolina may look to have Rattler using his legs more than he did at Oklahoma. As Beamer mentioned, the Sooners may have missed an opportunity by not running the quarterback more often, as Rattler accumulated 260 rushing yards and nine touchdowns on 126 rushing attempts at Oklahoma.
Beamer is excited to have Rattler as his quarterback and South Carolina's spring game was a good start.
Atlanta Falcons running back and former Gamecocks star Mike Davis had an early impression of Rattler from the sideline and says he passed the eye test. Several other former Gamecocks from around the NFL made the trek to Columbia for the game, including San Francisco 49ers star Deebo Samuel.
While Rattler and Luke Doty have handled most of the quarterback reps this spring, many close to the program have also mentioned true freshman Braden Davis as a potential contributor at the quarterback position down the road. He made a nice toss to Traevon Kenion in the third quarter for a touchdown.
The Gamecock Award winners for the spring were:
Joe Morrison Offensive Player of the Spring – Spencer Rattler
Rex Enright Co-Defensive Players of the Spring – Zacch Pickens and Cam Smith
Jim Carlen Special Teams Player of the Spring – Mohamed Kaba
President's Outstanding Student-Athlete Award – Hank Manos
Harold White GPA Award –
Offense – MarShawn Lloyd
Defense – Tonka Hemingway
Special Teams – Alex Herrera and Mitch Jeter
Most Improved –
Offense – Ahmarean Brown and Jaylen Nichols
Defense – Mohamed Kaba
Special Teams – Jordan Strachan
Gamecocks' Toughness Award –
Offense – Xavier Legette
Defense – M.J. Webb
South Carolina Spirit Award –
Offense – Chad Terrell
Defense – Alex Huntley