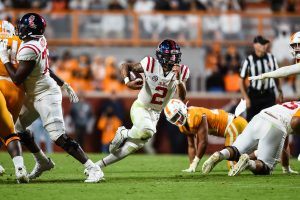 We've had a few years of ugly Tennessee football.
Hate to point that out because we know a lot of great Tennessee folks, UT fans … church members, radio network affiliates, current and former marketing partners, co-workers. For sure, not wanting to pour salt in the wounds of friends. It doesn't help us (Lindy's) for football at Tennessee, or other traditional programs, to be bad. We need big fan bases to be excited about their team and players.
But, you have to be realistic and objective.
We've had more than just a few years of ugly Tennessee football.
A proud program – formerly up there with the Alabamas, Floridas, Auburns, Georgias and LSUs – it hasn't been there consistently in a long, long time.
The Volunteers have lost 16 of the last 17 to Florida. They've lost seven of the last eight to Auburn, nine of the last 11 to Georgia, and five in a row to LSU. All of that is ugly.
How about the fabled "Third Saturday of October" rivalry with Alabama? The string is at 14 consecutive losses to the Tide, likely stretching to 15 on Saturday. By comparison, LSU has beaten Alabama five times since Tennessee did it once. Auburn has won the Iron Bowl game six times since Tennessee last beat Alabama. That's really ugly.
In the last dozen years or so, Tennessee has lost games at home to Wyoming and Georgia State. Ugly. The Volunteers have lost four of the last nine to Vanderbilt. Ugly. And eight of the last 13 years (2008-2020) have been losing seasons. That's really ugly.
During those same 13 seasons, Tennessee has had six head coaches and two interim coaches. That's eight guys in the head coach's chair in the past 13 campaigns. No other college team can match that achievement. That's another one that's really ugly.
But, during this new century of ugly on Shields Watkins Field, nothing has even come close to the ugly that happened in the last minutes of the Tennessee loss to Ole Miss on Saturday night. All this other stuff looks like wonderful football compared to Saturday night's debacle. This one was UGLY, with all capital letters.
It was the most embarrassing spectacle in Tennessee football history. Probably the worst in Southeastern Conference history. One of the worst ever in college football.
If that televised broadcast had been rated, it would have been "X" for violence. If you haven't already watched, it may not be fit for family viewing. Protect the women and children!
In case you've been under a rock for the last couple of days, here's was happened …
Tennessee trailed Ole Miss late in the fourth quarter, 31-26. The Vols had missed a field goal in the third quarter that would have put them within two points late, not needing a touchdown to win.
Now, they had the ball again, but were facing 4th-and-24 from their own 36-yard line. They were in that position because of their most recent sequence of plays … 1st down – QB Hendon Hooker sacked (-7) … 2nd down – Tennessee holding penalty, no play (-10) … 2nd down again – Hooker scrambles, no gain … 3rd down – Hooker scrambles (+3).
So, it's fourth down-and-24 through nobody else's fault, not the officials, not anybody … except the Tennessee offense.
On fourth down, quarterback Hooker hit tight end Jacob Warren over the middle and gained 24 yards before falling (maybe more like sliding or bouncing) at the 40-yard line, more or less.
And, that was the issue. Was it more or was it less? Where did Warren's knee hit the turf and more importantly, where was the ball when that happened? The initial call put the ball short of the needed spot. Several angles appeared to show that the UT receiver had gone beyond the spot, but it was close with possibly not enough "irrefutable" evidence to overturn the call.
The spot was reviewed. The distance was measured. And, the call on the field was confirmed.
That was NOT the answer that most fans in the stands wanted to hear. And, way too many of them decided that the call was theirs to make. They weren't satisfied with the outcome, so violence was an acceptable alternative. (Sound familiar these days?)
Understandably, a deafening chorus of boos came from the stands. Unfortunately, the boos were accompanied by water bottles, mustard containers, golf balls and who knows what else.
Mustard bottles? Do they need to attach security cords at Neyland's food counters to keep condiments off the playing field?
Golf balls? Who brings golf balls to a football game? Are there putting greens on those high-up concourses that we haven't known about?
It quickly became a scene from a Grade B horror show. It lasted 18 minutes but seemed even longer. Fans pelted the sidelines and the field with water bottles, food items and other projectiles. The announcement on the stadium PA asking that it stop served much like dousing a raging fire with gasoline.
Before relative calm was restored, the Ole Miss team/coaches/staff had moved onto the field, players wearing helmets for protection. Tennessee cheerleaders were moved to safety. Part of the UT student section was emptied. And, the Pride of the Southland marching band was evacuated from its seats. (Doubt there was much pride while that was happening.)
Finally, the closing seconds of the game were allowed to be played and Ole Miss won, 31-26.
Years and years of frustration can wear on you. Too much alcohol on a long football day can impact you. And, it does seem like there have been more questionable calls by officials this season than in past years.
But with that said, there is never an excuse for anything like this happening, especially at a college sporting event. There shouldn't be enough moonshine in all the hills of east Tennessee to explain this.
Could you imagine this happening at Bryant-Denney, Jordan-Hare, Sanford Stadium or Florida Field?
Before Saturday night, could you have imagined it happening anywhere?
To his credit, in the aftermath, Ole Miss head coach Lane Kiffin was able to interject a little comedy. He tweeted the video of Seinfeld's George Costanza, mistaken for a "marine biologist," holding up the golf ball that he removed from a whale's blowhole.
Nobody else was able to find much humor.
Scathing negative reaction poured in from around the country before the attack from the stands was even under control. Action from the Southeastern Conference office seemed almost as quick.
"The disruption of Saturday's game is unacceptable and cannot be repeated on any SEC campus," Commissioner Greg Sankey said on Monday in announcing the following actions against the University of Tennessee:
1. Assess a $250,000 penalty to be deducted from the university's share of SEC revenue distribution.
2. Use all available resources, including all video sources, to identify the individuals who threw objects, all of whom will be prohibited from attending Tennessee athletic events for the remainder of the 2021-22 academic and athletic year.
3. Review game management procedures, specifically including alcohol availability policies.
4. Prior to the next Tennessee home football game, the university will provide a report to the SEC office summarizing the university's success in identifying and penalizing the offenders and plans to enact policies.
Amen to No. 1 and No. 2 and a gigantic amen to No. 3 (Please tell me what genius ever thought it was a good idea to sell alcoholic beverages in stadiums during college football games to begin with! Like that's not inviting trouble, especially late in closely contested night games!)
Don't expect a similar disruption at Tennessee's next game … at Alabama on Saturday. The next game is at Kentucky, then Georgia comes to Knoxville. Don't expect it on those days either and hopefully never again anywhere.
We need the old Tennessee to return. The one that used to be competitive against the traditional powers. The one that would have only used mustard on hot dogs and kept golf balls in the bag with their clubs.
We don't need more ugly Tennessee football, on or off the field. We need the real Tennessee back again.