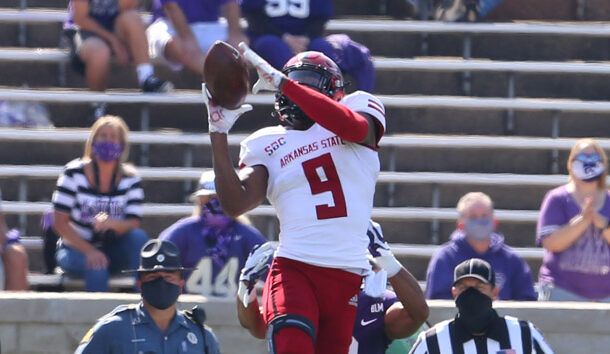 Arkansas State, a loser by 13 points a week earlier at Memphis, was a 10.5-point underdog at Kansas State on Saturday. The Wildcats had not lost a season opener since 2013 and things didn't look good for the visitors when they trailed, 21-7, midway through the second quarter.
But, wide receiver Jonathan Adams, a sophomore from Jonesboro, Arkansas, and the Red Wolves' offense still had something to say about that.
Adams had a career game, hauling in eight passes, including three for touchdowns. His third score of the game, a 17-yard reception from quarterback Layne Hatcher with just 38 seconds remaining in the fourth quarter, was the game winner as the Red Wolves came from behind to claim the win, 35-31.
 Adam's game-winning reception is this week's U.S. Farm-Raised Catfish "Catch of the Week."
Remember … for the tailgate tent or the pre-game party, U. S. Farm-Raised Catfish is always "the winning catch."
The Catfish Institute, or TCI, was formed in 1986 by catfish farmers and feed manufacturers to raise consumer awareness of the positive qualities of U.S. Farm-Raised Catfish. Since its formation, U.S. per capita consumption has more than doubled.
U.S. Farm-Raised Catfish is a sustainable and environmentally friendly seafood product. The National Audubon Society, Monterey Bay Aquarium, and Environmental Defense all recommend U.S. Farm-Raised Catfish as a safe environmental choice. To find out more, visit www.uscatfish.com.