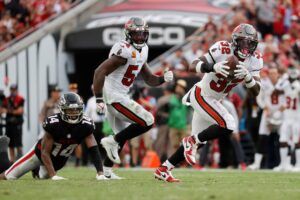 Buccaneers quarterback Tom Brady fired five touchdown passes and Mike Edwards returned two fourth quarter interceptions for touchdowns as Tampa Bay rolled to its 10th win in a row, 48-25, over the Atlanta Falcons on Sunday.
The victory marked the first 10-game winning streak in Buccaneers history and it was the ninth consecutive game where the Bucs have scored 30 or more points, which is also a new NFL record.
"I think we have the opportunity, the way that the games are flowing and the opportunities we're getting with the ball, we have even more opportunities," explained Brady. "We're a little loose with the ball – some penalties at different times that have knocked us out of some scoring drives – some missed throws that I've had, some missed reads – certainly wish that I made a few better throws tonight."
Atlanta had turned this into an interesting game in cutting the Buccaneers' 28-10 lead to 28-25 at the end of the third quarter, but it was the defense to the rescue as twice on all-out blitzes, safety Mike Edwards picked the ball off and went 31 and 15 yards to wrap up the win.
On the first one, Ryan tried to throw a quick look-in pass to Russell Gage and Edwards jumped the route and took it 31 yards for a 41-25 lead with 7:53 remaining.
"I was playing nickel; we had good pressure; he got rid of the ball quick and I just jumped the route," noted Edwards. "It kind of got tipped out of my hands a little bit, but I concentrated and took it back for a big play."
About three minutes later, cornerback Carlton Davis came in off the left side and blocked Ryan's pass and Edwards picked off the block and went 15 yards for the 48-25 lead.
"'C.D.' (Carlton Davis III), we were both blitzing off the edge and he got the tip," said Edwards. "I didn't see him tip the ball, but I saw it up in the air and came down with it."
Edwards, in his third season out of Middle Tennessee, had not had a pick-6 in the NFL until Sunday. He also noted that his last pick-6 came in the last game of his Blue Raiders career.
Falcons Take Flight: After Brady threw his fourth touchdown pass of the day and second one to Mike Evans at the outset of the second half, the Falcons became a tough out.
Matt Ryan marched them 75 yards in 12 plays and he hit Calvin Ridley with a 3-yard touchdown pass to cut the margin to 28-17.
After a three-and-out by the Buccaneers, it was Ryan again moving the Falcons to the 7-yard line and then throwing what amounted to a jump shot over an outstretched Buccaneers lineman. The ball fell in Cordarrelle Patterson's arms and he ran it in for a score. After Ryan hit pay dirt on the two-point PAT, Tampa Bay led only 28-25.
It was reminiscent of the first drive of the game when the Buccaneers were working offensively in such rhythm as Brady marched them 75 yards in six plays and ended with a 20-yard TD toss to Rob Gronkowski for a 7-0 lead.
"It was our normal 15 (plays); we script 30, but it was a good script," said Bucs coach Bruce Arians. "We decided to take the ball, I didn't know what the weather was going to do with the second half. So, we wanted to get the ball. (I) liked the script and it was executed perfectly. Then we go to sleep."
That scoring toss was the third chunk play of the drive as he hit Mike Evans for 20 and 25 yards on the same drive.
"We have to have chunk plays," explained Arians. "We are a chunk play team. We can pound it out, and run it out, and throw it short if we want too, but we want chunks."
Tom's Office: Tom Brady's afternoon saw touchdown passes for 20 yards and one yard to Rob Gronkowski and then one- and three-yarders to Mike Evans. He finally hit Chris Godwin on a 12-yard touchdown pass to give Tampa Bay a 35-25 lead with 9:18 to play.
"I think he has a great grasp of it, that's obvious," said Arians, of the way Brady is running the offense right now. "The way teams are trying to play us, he sees it early and they usually don't break their pattern. Even when the game got back tight, they were still the same."
Brady already has nine touchdown passes in the first two games and with an extra game because this will be the first NFL season of 17 games, a healthy Brady could closed on 60 before the year ends.
Arians says that Brady is operating in a different stratosphere than he was this time last season. The Buccaneers are looking for a complete 60 minutes from the team and they will need that going into Los Angeles to battle the 2-0 Rams next Sunday.
"I think we jump out, we feel good, we got them, and then we relax for 10 or 15 minutes," noted Arians. "Then we turn it back up, and then relax again. We haven't played for 60 minutes yet."