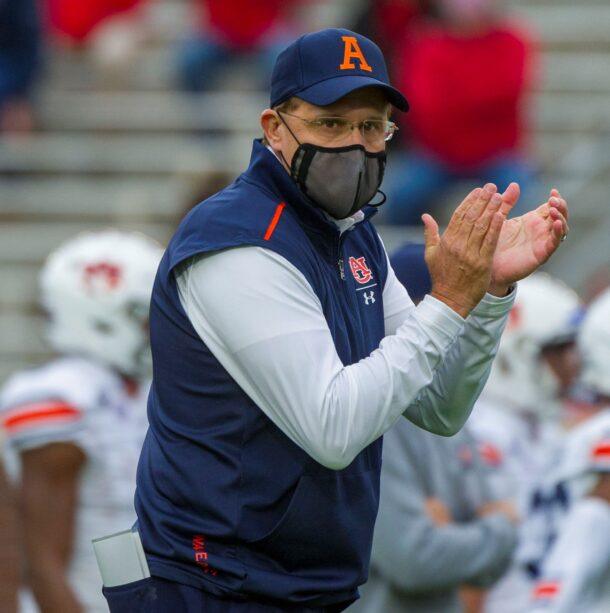 After graduating with a journalism degree decades ago, I entered law school, made decent grades briefly, but soon decided the profession wasn't for me.
That means I may know just enough to be dangerous. But, I do remember that the Sixth Amendment provides that an accused will have a speedy, public trial by a jury of peers.
College football coaches are inherently on trial from their first day on the job, but some face closer scrutiny, more critical judgment, never-ending inspection, and have a higher bar demanded that they are required to hurdle.
Auburn's Gus Malzahn is prominent on that list and it's understandable.
When you accept the job at a place like Auburn, you should expect it.
In the "modern" history of the college game … over the past seven decades (1950-2019) … Auburn ranks 14th among all college teams in winning percentage, one of six Southeastern Conference teams in the top 16.
So when you coach at one of college football's traditional powers, plus you are paid several million dollars annually, that makes things even more demanding.
His accusers say that Malzahn's teams aren't solidly coached, their records are disappointing, recruiting isn't good and he can't win the big games.
When did this start?
You could make a case that since Auburn gave up that long pass completion after taking the lead in the last minute of the national championship game against Florida State at the Rose Bowl, the trial … Fans vs. Malzahn … has been on the docket.
The case against the Auburn head man has been made … incessantly … at least for the last six years. Just check social media, read some of the columns, or listen to some of the commentators.
In a sense, it's hard for Malzahn to receive a Sixth Amendment judgment.
His trial hasn't been speedy with anti-Malzahn rhetoric year-after-year.
It has been somewhat public – find it on social media or radio call-in shows every day – but there's a lot of discussion and influence out of the public eye.
And, a jury of peers? How do you find peers when you're paid millions of dollars annually?
There are objective facts against Malzahn. In his 7-plus seasons on the Plains, his head-to-head record against Georgia is 2-7, against LSU is 3-5 and against Alabama is 3-4. Fans question play-calling, efficient execution, game planning and strategy.
Anti-Malzahn opinion has been going on for a long time, nationally and locally.
"Everyone appears to be jumping on the Gus Malzahn hot seat train, heading into the 2019 season, which is a year late, if you ask me," said Saturday Down South writer Michael Wayne Bratton, before last season.
At that same time, national sports media personality Colin Cowherd predicted that Auburn would lose to Georgia and Alabama because "they have the best personnel" and said that Malzahn would lose to both of those rivals and that he would be fired.
Of course, Malzahn's team beat Alabama for the second time in the past three seasons, won nine games, and he is still head coach.
Then in 2020, on Oct. 27, just three days before the LSU obliteration, Sports Illustrated national columnist Pat Forde, under the headline "Is Gus Malzahn the Luckiest Man Alive?" said that "if Gus had ordinary luck, he would be long gone as the coach of the Tigers, and several million dollars poorer."
A few weeks ago, after the loss at South Carolina, an editorial in The Auburn Plainsman, the student newspaper, called for Malzahn's dismissal with the headline … "Get Gus Gone."
Also on October 17, the day of the South Carolina game, a GoFundMe page was started calling for Malzahn's removal. No specific donation goal was given. Good thing, since as of October 31, the page showed that zero had been contributed to the cause.
A lot of the hostility toward the coach is hard to understand or defend … "I don't like Malzahn!"
Is that really a reason to dismiss a coach? "I don't like Malzahn?"
Sounds a lot like the opponents of some political candidates who don't have to be named. "Ignore what he's achieved. I don't like him!" So, regardless what happens, good or bad, he has to be gone.
How about the other side of the coin?
The records. Records, especially against Georgia and LSU, have not been acceptable. But in the 7-plus seasons since Malzahn took the reins, Auburn has the fourth-winningest record among SEC teams, trailing only Alabama, Georgia and LSU. In those seasons, only three teams have won the SEC West Division and played in the Championship Game in Atlanta … Alabama (4), Auburn (2) and LSU (1). Auburn has played in a postseason bowl game after every season
Recruiting. With either Georgia or Alabama finishing No. 1 in national recruiting in each of the past four years, it's hard to make fans happy. But, Auburn has finished in the Top 12 in each of those seasons, in the Top 10 twice. About 90 percent of other teams would gladly trade places with the Tigers.
Against major regular opponents. With LSU, losses have been competitive and things seemed to turn in the past two seasons. Last year, the game was played in Baton Rouge against the LSU team that went undefeated, and won the national championship. Only Auburn (20-23) played LSU close throughout the game and could have pulled out the win. Then, last Saturday, Auburn massacred LSU, holding them to 32 rushing yards, dishing out their largest loss (48-11, 38 points) in 34 years.
The fact that Alabama also plays in the state is a factor in the perception of Auburn. This has been a span when the Crimson Tide, along with Clemson, is considered to have had one of the best college football periods ever. So, during supposedly the apex of recent college football, Auburn has won against Alabama twice in three years, three times in seven seasons, and finished 4-6 in the series in the 2010-2019 decade. Not as good as Tigers fans would like, but much better than any other Tide opponent.
So, what about the future?
Who knows? This Auburn team with few contributing seniors, already starting on another talented recruiting class, led for the next two seasons by Bo Nix, Tank Bigsby and company, could have a bright future, despite playing in the country's most difficult division, the SEC West.
This 2020 team could lay an egg and end 4-6. Based on Saturday's performances, more likely it will win at least two games, possibly more, play in a respected postseason bowl game and hopefully look ahead to a normal 2021 season. The game against LSU, even a rebuilding LSU, has to be seen by even the anti-Malzaners as a giant step in the right direction.
One game doesn't make a season and one game doesn't make a coach's career.
But, one game can certainly sink either one.
Imagine what things would be like today if a different set of Tigers had lost by
37 points in Jordan-Hare on Saturday.
Among Auburn fans, even those who have supported Malzahn, the case against him would have been pretty much settled. Even with a supportive university administration, cracks in his support might have started to show.
Not so now.
Even his most harsh critics have to acknowledge what happened this weekend. Auburn's team, with its back against the wall, with no room for another loss at this stage of the season, played its most complete game since the 40-17 blasting of No. 1 Georgia on this same field late in the 2017 season.
"That was the sixth straight SEC game that we've had," Malzahn said after the LSU win. "Our bodies are really talking to us. We need to heal up. We've got four left. We'll have a chance to kind of evaluate the areas we need to improve on to get the best plan for the next four games."
What will happen? What will the outcome be?
The jury is still out and how those last four games end up could have a big factor on the ultimate verdict.
But for now, Gus Malzahn has earned a reprieve and needs to make the most of it before the 2020 verdict is rendered.