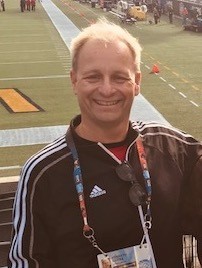 It was going to be a fun Saturday afternoon, February 5, almost exactly seven months ago.
The Ole Miss basketball team was traveling to Gainesville to play Florida. The Gators already had five SEC losses, including a 16-point embarrassment in Oxford 11 days earlier. Florida badly needed a win with its momentum, and postseason chances, heading in the wrong direction.
Columnist Ken Cross was going to be sidecourt for that game, covering it for Lindy's as he's done many times over the past decade. As he pulled up to the intersection on Friday night, probably already thinking about the next day's game, I'm sure thoughts of the raucous O'Connell Center crowd were already vivid on his mind.
He may have caught a quick glimpse of the headlights bearing down on the back of his 2009 SUV.
When he regained consciousness … in mid- to late March … nothing was vivid on his mind.
Not college basketball. Not his students at Dunedin High School in Pinellas County. Not anything that had happened at that intersection outside Tampa more than a month earlier.
His SUV had been rammed full-speed from behind by a vehicle piloted by a drunk driver "maybe going 100 miles per hour," according to accident reports. The vehicle flipped and was totaled.
Ken's career, his health, his life itself had been put in jeopardy, serious jeopardy. His recovery was in no way a slam dunk.
The extent of Ken's injuries couldn't be determined immediately after the wreck. Were there broken bones and internal injuries? It would take time to determine those things. But his medical team did know that he was unconscious and there was nothing that they could do at that point to change his condition.
Ken hadn't been aware of any of this, but many others were – friends and co-workers, journalism colleagues and coaches.
Among the most significant to Ken, Auburn head basketball coach Bruce Pearl recorded a message that Ken's family played back to him while he was still in intensive care, hoping that it would help him regain consciousness. The family received calls and messages from other current and former coaches, sending best wishes and hopes for a full recovery.
Perhaps most importantly, Ken, his family and his medical team were lifted in prayer by individuals, fans, churches in many parts of the country, people that Ken has never known and almost certainly never will.
"The fact that people that I don't even know reached out is a testimony to how many people are concerned when a person has a situation like this," Ken said. "There were churches that let us know that I was in their prayers, churches in Louisiana, Alabama, Virginia, North Carolina, Florida and Tennessee, including the congregation in northeast Tennessee where I'm still a member."
That included our Sunday School class at North Shelby Baptist where Ken was included in prayer week after week.
The brush with death and the changes in his routine that it caused has impacted Ken's prospective.
"You can never know what is going to happen, week to week, day to day, even hour to hour and minute by minute," he said. "It has caused me to be so appreciative for what I've been given in life, for what I've been able to do.
Ken is quick to acknowledge that he has made mistakes in life, that he hasn't always expressed enough thanks, that he has taken too many things for granted and hasn't always set the best example.
"I've never been a person who thinks that God/Christ punishes people through injuries or situation like this one," he said. "Through all that I've heard about what happened, I know that God saved my life that night. God gives us second chances because He knows that so many of us have more that we can give and that we can serve as an example and have a positive influence on others."
Ken Cross' has experienced a miraculous recovery, a positive comeback that happened much sooner than his medical team could have anticipated. In August, he was able to write several stories about college basketball, covering significant teams, with those features included in Lindy's 2022-23 edition that is on the way to newsstands now.
Then this past Saturday, he was in the pressbox at Scott Stadium in Charlottesville, Va., as the Cavaliers hosted in-state rival Richmond in the season-opener for both teams. His report on Virginia's 34-17 win is also included on Lindy's web site this week. You can find it in his "In the Crosshairs" column at (https://www.lindyssports.com/columns/in-the-crosshairs/).
Ken will spend the fall months in Charlottesville, covering the season for Virginia and others teams in the Old Dominion state, while completing his rehab. He plans to be covering college and pro basketball in the upcoming season.
I'll look forward to seeing him at March Madness games again, something that he missed last year for the first time in almost 40 seasons, and submitting stories next April for our state-specific editions for the 2023 Lindy's college football publications.
Just a few months ago, those things seemed pretty much impossible. But, God had more plans for Ken. Now he plans to use his platform for greater things, understanding that in life there are many things much more important than which team wins and which one loses.
Ken Cross is blessed to be back in the game … and we celebrate with Ken that he's back there again.