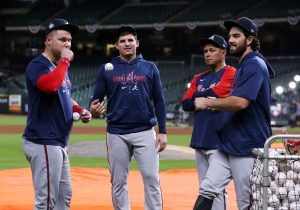 Before the 2021 Major League Baseball postseason began, an Atlanta Braves/Houston Astros matchup probably would've have produced a solid profit if one slapped some money down on a futures bet.
In fact, there's no way in hell anyone would've predicted the Braves, after losing Mike Siroka, Marcell Ozuna and, arguably the best player in baseball, Ronald Acuna (ACL injury in July) Jr., would be the last team standing in the National League.
But that's the beauty of baseball. And that's the beauty of sports. You just never know when an MLB team — or any team from any sport for that matter — can put it all together and go on a championship run. And that's exactly why this year's Fall Classic should be a dandy. But a quick series could be in the cards if one team's pitching falls apart due to the offensive firepower on both squads.
Houston enters the World Series with a .281 batting average, along with 15 doubles, 13 home runs, a triple, and 65 RBIs in 10 games this postseason. It has also been successful on all seven of its stolen bases and has drawn 36 walks and struck out 84 times in 345 at-bats in the playoffs.
Meanwhile, Atlanta heads into the interleague showdown carrying a .250 average, with 12 doubles, 12 homers, two triples and 39 RBIs in 10 postseason games. It has been successful in five of six stolen base attempts and has drawn 31 walks and struck out 101 times in 332 at-bats.
Each team has a dynamic infield loaded with stars and outfielders who can knock the ball out of the yard at any time. Houston's notables are shortstop Carlos Correa, second baseman Jose Altuve and outfielder Michael Brantley. But up-and-coming star Michael Tucker, the Astros right fielder, and veteran infielder Yuli Gurriel have also played a major role in the team's playoff surge.
Freedie Freeman, Ozzie Albies, Dansby Swanson and NL MVP candidate Austin Riley anchor arguably MLB's best infield. Riley, who hit .303 with 33 home runs and 107 RBIs in the regular season, has been superb defensively — as have all the Atlanta infielders — and has been one of the team's top run producers. Joc Pederson (three home runs and nine RBIs in 29 at-bats this postseason), Adam Duval and Eddie Rosario, who was inserted into the lineup when leadoff man Jorge Soler was forced to sit out five games in the National League Championship Series due to COVID, have come up huge in the Atlanta outfield following the Acuna injury. If it weren't for the heroics at the plate by Pederson and Rosario, the Braves probably wouldn't be one of the last team's standing.
Pitching-wise, the Braves hold a statistical edge — and, on paper, hold the edge in starting pitching with Charlie Morton, Max Fried and Ian Anderson anchoring the rotation.
Atlanta's entire staff is 7-3 with 100 strikeouts, 31 walks and a 3.41 ERA in 87 innings pitched this postseason. It's walked 31.
Houston's staff — keep in mind it pitches in the AL — has the same record as the Braves, but its 4.50 ERA is a little alarming. The 'Stros pen, which is led by Ryan Pressly, Phil Maton and Christian Javier, is 4-1 with 58 strikeouts in 50 innings pitched and has walked 15.
Atlanta's relief corps, which has seen fireballer Tyler Matzek emerge as a reliable shut-down man, is 5-1 with 52 strikeouts in 43 innings pitched. It has walked 17.
Closer Will Smith (2-0, 4 saves this postseason) and reliever A.J. Minter, who was sent to the minors in the regular season due to control issues, have also been lights out.
The Braves won the fewest regular season games of any team in this year's postseason and won the National League East with a record of 88-73. The battle-tested Astros, who won the American League West with a 95-67 regular season record, were on the verge of going down 3-1 in Game 4 of the American League Championship Series before a late-inning surge sparked a comeback victory and an eventual 4-2 series win.
This will be Houston's third Fall Classic appearance in five years. It won the whole enchilada in 2017.
Houston manager Dusty Baker will be making his second World Series appearance as manager and his first since his 2002 San Francisco Giants fell to the Anaheim Angles in seven games.
Atlanta manager Brian Snitker, who has spent more than 40 years in the Braves organization, will be making his first appearance in the Fall Classic as a manager.
Taking the mound in Game 1 for the Braves will be the hard-throwing veteran Morton, 37, who helped the Astros close out the L.A. Dodgers in Game 7 of the 2017 World Series. Morton is 0-1 with 19 strikeouts and a 3.77 ERA in 14.1 innings pitched this postseason. He'll be going on six days rest.
Opposing Morton will be dynamic lefty Framber Valdez, 27, who is 1-0 with 13 strikeouts and a 4.20 ERA in 15 innings pitched this postseason. When Valdez is hitting his spots with his fastball, good curveball and nasty sinker, he can be a ground-ball producing machine.
Regardless, both hurlers will need to bring their A games to pitch deep into the game due to each clubs offensive firepower — although both bullpens have been outstanding.
Rosario, who was acquired on July 30th from Cleveland in exchange for Pablo Sandoval and cash, etched his name into Braves lore by racking up a franchise record 14 hits (14-for 25) in the series NLCS win over Los Angeles, the defending World Series champion. He hit .360 with three homers and nine RBIs in six games against an outstanding Dodgers pitching staff. His walk-off single in Game 2 helped the Braves to a 5-4 comeback win, and his clutch three-run homer in Game 6 led to Atlanta clinching its first NL pennant since 1999.
"It was one of the best series I've ever been a part of in my life." Rosario said following the NLCS series clincher. "They're a great team. Incredibly challenging, but it was something I'm extremely proud to be a part of to be able to advance and beat them to get to this point.
Yordan Alvarez, a sweet-swinging lefty who won the ALCS MVP, is about the only man on the planet that's hitting as well as Rosario. In the 4-2 series win over the Red Sox, Alvarez hit .522 with three doubles, a triple, a homer and six RBIs in 23 at-bats.
Houston announced Monday that hard-throwing right-hander Lance McCullers Jr. would not be available to pitch in the World Series due to a strained forearm. Astros center fielder Jake Myers, a great defender, is also questionable as he continues to nurse a left shoulder injury.
Prediction: Braves in 5