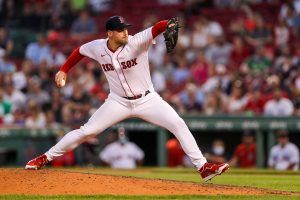 PROJECTED REGULARS
1B     Bobby Dalbec — Lots of swing and miss; has produced 33 homers and .819 OPS in 156 career games.
2B     Kike Hernandez — .408 hitter in postseason play last year; 14 Defensive Runs Saved in center field.
SS     Xander Bogaerts — Bank on his annual production; only AL qualifier with .850-plus OPS each of last four seasons.
3B     Rafael Devers — Hard-hit rate rising; shows two 30/100 seasons before turning age 25.
LF     Jarren Duran — Stole as many as 46 bases in minors; power started
showing up at Triple-A last year.
CF     Jackie Bradley Jr. — Lost cause as hitter; 31 percent strikeout rate last year; good as ever defensively.
RF     Alex Verdugo — Skilled hitter, though lacks lift in swing; batted .304 in
second half last year.
C       Christian Vazquez — Solid receiver and accurate thrower; power on the wane since turning 30.
DH    J.D. Martinez — Remains one of MLB's biggest run-producers; double-digit home runs each of last nine full seasons.
ROTATION
RH     Nathan Eovaldi — Elite strikeout/walk ratio; posted AL-best 2.79 FIP last season.
LH     Chris Sale — Back to normal after Tommy John surgery; averaged 11 K/9 IP last year.
RH     Nick Pivetta — 5.16 career ERA; increased velocity helps him dominate at times.
LH     Rich Hill — Curveball master entering age-42 season; coming off biggest workload since 2007.
RH     Michael Wacha — Fastball/changeup mix fooling fewer these days; Tanner Houck on standby.
KEY RELIEVERS
RH     Garrett Whitlock (closer) — Claimed from Yankees in 2020; has emerged as one of best multi-inning relievers in majors.
RH     Matt Barnes — Throws upper-90s gas, but stuff is all over the place; lost closer's role last year.
RH     Ryan Brasier — Throws hard, but gives up too much hard contact; has resilient arm.