NL East
Atlanta Braves: Will Soroka/Anderson/Fried be the second coming of Maddux/Smoltz/Glavine? That's a stretch. But it's a good place to start for an October run.
Washington Nationals: What Juan Soto did in 47 games last season, many players would be happy to achieve in a full slate. He is a latter day Barry Bonds, without the scowl.
New York Mets: Steven Cohen has a new toy, and he's already playing with it. The new owner is flush with funds, and wants more than Francisco Lindor.
Philadelphia Phillies: Aaron Nola, Zack Wheeler and Zach Eflin are good starters, although not the 1-2-3 the Braves have. The bullpen was wretched last year, and Hector Naris remains the closer.
Miami Marlins: The Fish are starting to swim with the current again. One to watch is Sixto Sanchez, who reminds some of Pedro Martinez at a similar stage.
NL Central
St. Louis Cardinals: Acquiring Nolan Arenado bolsters and already strong lineup. Top to bottom, the Cardinals are difficult outs for a pitcher to secure, except for one-time star Matt Carpenter. What's not to like about a bullpen that has two closers who throw 100 mph.
Milwaukee Brewers: There's not a team in baseball that wouldn't trade their two top relievers for Josh Hader and Devin Williams. Their top two starters are formidable, too.
Cincinnati Reds: The Reds couldn't afford Trevor Bauer, but Sonny Gray and Luis Castillo didn't go anywhere. One of these years, they no longer will have to pay Joey Votto.
Chicago Cubs: Just when it was time for the Ricketts family to put on its big-boy pants and reassure Cubs fans, they started crying poor. Good-bye, Yu Darvish, Kyle Schwarber, et al.
Pittsburgh Pirates: Has anyone kept track of how many times the Pirates have engaged in a rebuild since the halcyon days of Jim Leyland and Barry Bonds?
NL West
Los Angeles Dodgers: The Padres are posing a challenge? Bring it on! You can be confident when Mookie Betts, Clay Bellinger, Clayton Kershaw, and now Trevor Bauer, are on your side.
San Diego Padres: OK, it's put up or shut up time for these guys. They've stacked their rotation, and the left side of the infield is as good as it gets.
Arizona Diamondbacks: The Diamondbacks are bereft of any real stars, but they measure up well as a group. Now, if only someone hadn't thought that signing Madison Bumgarner was a good idea.
San Francisco Giants: The Giants claim their rebuilding stage is over, which is appropriate since all but one of their regulars is 30 or older. Johnny Cueto at the top of the rotation is not good.
Colorado Rockies: Nolan Arenado was traded to St. Louis this offseason and Trevor Story might have a new address this summer. And GM Jeff Bridich might still have his job. Weird.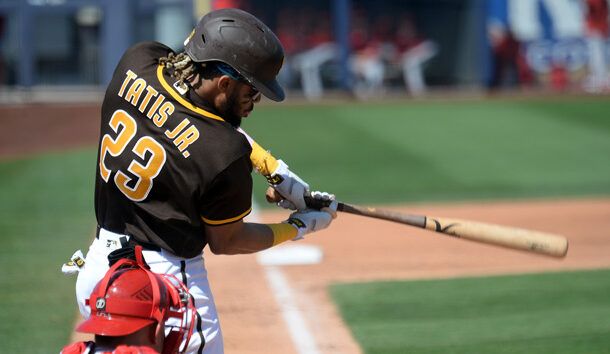 NL MANAGER OF THE YEAR
Jayce Tingler, Padres
NL MOST VALUABLE PLAYER
Fernando Tatis Jr., Padres
NL CY YOUNG AWARD WINNER
Walker Buehler, Dodgers
NL ROOKIE OF THE YEAR
Dylan Carlson, Cardinals
NL ROOKIE PITCHER OF THE YEAR
Ian Anderson, Braves
NL DIVISION WINNERS
EAST: Braves
CENTRAL: Cardinals
WEST: Dodgers
NL WILD CARD TEAMS
Brewers, Padres
NL CHAMPION
Braves