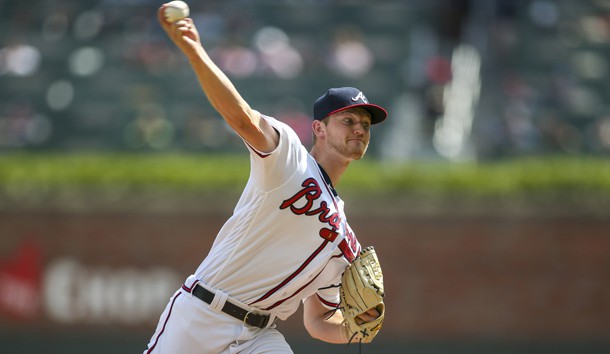 It's amazing how quickly life as we know it can change.
One-minute mankind is taking care of business as usual. The next, mankind is interrupted by a world-wide pandemic that's cost many innocent people their lives.
But rest assured, life will get back to normal soon. The United States — and the world — is too strong for it not to.
I just hope — and pray— that the U.S., and every country that wants to get on board, can deter something like the Coronavirus from ever happening again.
On a lighter note, this is the time of year I always give my fantasy baseball picks to a friend of mine's dad. He's going on with his draft Sunday. And I hope whomever reads this will do the same.
Granted, the season's start date is up in the air. But, hopefully, it will begin soon.
Regardless, the synopsis on the Fantasy players below is based on a full season — or close to it. They are also considered "value" players considering most aren't ranked in the top of their position groupings.
And when I speak of value players, it comes with the understanding that the fantasy player I'm trying to reach knows who the elite guys are.
2020 Fantasy Baseball Value Players
Catcher: Jorge Alfaro, Miami Marlins — Alfaro has hit .262 in back-to-back seasons and drilled a career-high 18 home runs while playing in 130 games last season. Although he does strike out a lot (154 Ks in 431 at-bats), the free-swinging play-maker could provide quality value if you choose to select a catcher in the later rounds of the draft.
First Base: Jose Abreu, Chicago White Sox — Abreu had a disappointing campaign in 2018, but bounced back in a big way last season (.284 avg, 38 doubles, 33 home runs and an American League-high 123 RBI). With table setters Tim Anderson and Yoan Moncada batting in front of him, Abreu could be an MVP candidate on a White Sox squad that should compete for the AL Central crown.
Second Base: Max Muncy, Los Angeles Dodgers — Muncy is extremely valuable due to his eligibility at multiple positions — he also qualifies at first base/third base — so get this dude on your squad if at all possible. Although his batting average dipped 12 points from 2018 to 2019, he hit 35 home runs for a second consecutive season and was just two RBI shy of 100 last year. He should put up comparable numbers this season due to his ability to work the count and his quick, powerful swing.
Shortstop: Dansby Swanson, Atlanta Braves — Prior to a heel injury he suffered last year against Kansas City on July 23, Swanson was on his way to a career year. At the All-Star break, he was hitting .270 with 17 home runs, 19 doubles, three triples and 57 RBI. He also scored 58 runs and stole seven bases. Swanson struggled to get his timing back when he was activated on August 23, but he hit .389 with three doubles and two RBI in 18 at-bats in the NL Division Series against a really good St. Louis pitching staff. He'll be a quality option if you're a fantasy player who likes to fill the shortstop position in the mid-to-late rounds.
Third Base: Matt Chapman, Oakland A's — Chapman's batting average last season wasn't ideal for a corner infield spot, but his power numbers (36 home runs, 36 doubles, 3 three triples) and run production (102 runs, 91 RBI) have the potential to be even better entering his fourth season in the majors. The American League West isn't exactly pitching-rich this season, so Chapman should be targeted after the top corner infielders are off the board.
Outfield: Austin Meadows, Tampa Bay Rays — Like the team itself, most Rays players fly under the radar on a yearly basis as it pertains to fantasy success. But Meadows is a player that could be poised for a monster year playing inside an AL East Division that, outside of the Yankees, and potentially the Red Sox, doesn't have an abundance of strong pitching. With that said, Meadows could approach 40 home runs and over 100 RBI while also providing a batting average around .300. He also has the speed to top 20 stolen bases, which makes him a difference-maker when it comes to upper-echelon outfield options.
Outfield: Marcell Ozuna, Atlanta Braves — A return to the NL East (knowledge of the pitchers) should benefit Ozuna, who will be playing for a big contract after signing a one-year deal with a talented Atlanta team. Having Ronald Acuna Jr., Ozzie Albies and Freddie Freeman — three of the best players in baseball — hitting in front of him won't hurt either. With that said, look for Ozuna to surpass the 30-home run mark and drive in more than 100 runs playing on a team that can score runs in bunches.
Outfield: Nicholas Castellanos, Cincinnati Reds — Castellanos always seems to get lost in the shuffle when it comes to fantasy stars. But he could be in line for a huge season hitting in Great American Ballpark, a bandbox that routinely sees high-scoring games. Last year, Castellanos led the majors in doubles (58), scored 100 runs, hit 27 home runs, had 73 RBI and carried a strong .289 batting average while playing for the Detroit Tigers and Chicago Cubs. Look for his home run and RBI numbers to rise in Cincinnati, which is why you should pounce on Castellanos in the middle rounds.
Utility: Trey Mancini, Baltimore Orioles — Mancini could be a real valuable commodity this season due to his eligibility at first base and in the outfield. Now granted, speed from Mancini is non-existent. But he's got a ton of power, hits in a hitter's park and is Baltimore's best player. The only worry here is teams pitching around the Oriole slugger. But that happened to a degree last season and he ranked second in the AL in extra-base hits (75).
Starting Pitcher: Brandon Woodruff, Milwaukee Brewers — Woodruff is a guy that may fly under the radar come draft time, but don't be afraid to snatch him up if you are looking for a reliable No. 2 option. Woodruff possesses a fastball that can reach triple-digits and his hard sinker barrels in on hitters like a bowling ball. He also plays on a good team, which never hurts the win column.
Starting Pitcher: Mike Soroka, Atlanta Braves — To put it bluntly, Soroka is machine. He was the best pitcher on the Braves staff last season as a rookie (13-4 with a 2.88 ERA and 142 strikeouts in 174.2 innings pitched), and he should take another step forward in his sophomore season. Armed with a nasty two-seam fastball, a power curveball and a heavy sinker that he can locate with pinpoint accuracy, Soroka is on the brink of superstardom.
Starting Pitcher: Max Fried, Atlanta Braves — Like Soroka, Fried just knows how to pitch. He's got a good fastball, which he locates well, and his out pitch is a big, sweeping curveball that hitters have a tough time tracking. He also possesses a hard-breaking slider that has some serious movement. Last season, Fried finished second in the NL in wins (17) behind Stephen Strasburg. Don't be surprised if he reaches double-digit wins again playing on a team that should win a lot of games.
Starting Pitcher: Eduardo Rodriguez, Boston Red Sox — Despite winning 13 and 19 games in back-to-back seasons, Rodriguez is a pitcher that never really seems to get his fantasy due. But one man's trash is another man's treasure and making Rodriguez a priority in the middle rounds should be profitable. Sure, he walks a lot of guys (his 75 led the AL last year) and his WHIP (1.33) isn't great, but he wins games and piles up strikeouts — stats fantasy players appreciate.
Starting Pitcher: Nathan Eovaldi, Boston Red Sox — Eovaldi, a missed three months last season due to an elbow operation but he was having a strong spring before Major League Baseball shut down all activities due to the Coronavirus. Eovaldi will be a risk-reward-type pitcher if/when MLB begins play. But, if he's healthy, he has a lot of upside considering the dude's pitching repertoire is ridiculous.
Relief Pitcher: Taylor Rogers, Minnesota Twins — Rogers was a left-handed specialist for a couple of years before he earned the Twins closer role last season. In 69 innings of work, he set career highs in saves (30), Ks/9 innings (11.7) and walks/9 innings pitched (1.4). His power sinker is extremely tough for hitters to lift — which is always a good thing when closing out games — and he doesn't give hitter freebies when it comes to walks. After the top closer's are off the board, don't be afraid to pull the trigger on Rogers.
Relief Pitcher: Alex Colome, Chicago White Sox — The White Sox could be on the verge of a breakout. And if it happens, look for a big season from Colome. He doesn't possess overpowering stuff, but his nasty cutter gives hitters hell. Last year, Colome converted 30 of 33 saves. He had an MLB-best 47 saves in 2017. Grab this guy when the time comes to add a closer. You won't be sorry.