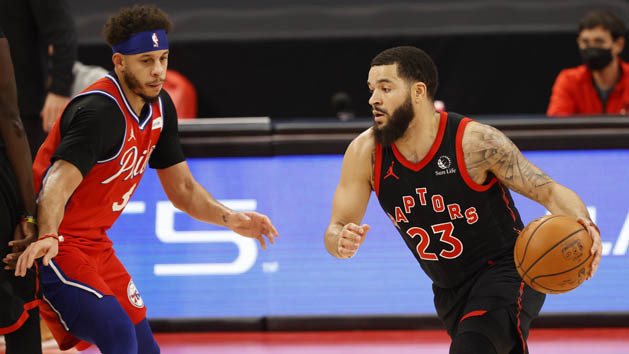 TAMPA, Fla.  – Pascal Siakam and Fred VanVleet had 23 points apiece and Chris Boucher had 17 as the Toronto Raptors used a solid fourth quarter on both ends of the floor to subdue the Philadelphia 76ers, 110-103, at Amalie Arena in Tampa.
The Raptors won their fourth in a row as they have hit second gear in February, sporting the best record in the Eastern Conference at 8-3.
Ben Simmons led all scorers with 28 points, while Joel Embiid scored 25 for Philadelphia, which has lost four out of its last six games.
Three Stars of the Game –
 1) Fred VanVleet – (23/5/9) – Once again, he stepped up big when Toronto needed it most as he had 13 points on four threes in the last 3:05 of the first quarters as the Raptors hit a 16-0 run and erased a 22-8 76ers lead.
2) Pascal Siakam – (23/7/8) – The 76ers had a tough time dealing with Siakam off the dribble as his slashing skills were a problem for the visitors. He got to the line and made six of six shots in addition to finding 18 field goal attempts as he had eight points early in the first quarter to keep Toronto in sight of Philadelphia after the Sixers' hot start.
 3) Chris Boucher – (17/5/1) – Boucher buried all five of his triples in a 5:45 stretch that stretched from the late third quarter into the fourth. He had nine points as the Raptors started the fourth quarter on a 15-8 sprint and took a 98-92 lead with 7:46 to play in the game.
It was over when – Boucher staked the Raptors to an 18-5 run over a 6:28 interval in the fourth quarter as Toronto went from three points behind to a 104-94 advantage with 4:06 to play. The Raptors' defense was incredible in the fourth as they held the 76ers scoreless from the floor for 7:39 until Tobias Harris netted a jumper with 1:09 to play that cut the lead to 106-99. Philadelphia was only 3-of-15 from the field over the first 10 minutes of the final period.
Liberty Livations – Joel Embiid had a career high 50 points and grabbed 17 rebounds on Friday night in Philly's win over Chicago. He had a tougher evening on Sunday, especially in the second half, as Toronto coach Nick Nurse used 6-10, 260-pound Aron Baynes on him in the paint where Baynes made it tough for Embiid to catch the ball and get it into his sweet spots. He only had two field goals in the second half … Sixth-man Shake Milton was back for the 76ers after an ankle injury. He played 28 minutes and netted three triples.
It's A Rap' – The rise of the Raptors in February has been due to several reasons. Toronto has averaged 117.0 points and shot 47.1 percent from the field, while netting 39.9 percent of it's three-three-point shots.
 They said it:
"Chris was ballin'. That's the luxury of having a gunslinger like him that can get hot at any moment. We continue to stay on him. We know how good he is. We just want him to stick with the game plan. He was great for us tonight." – Raptors guard Fred VanVleet on Chris Boucher's big game.