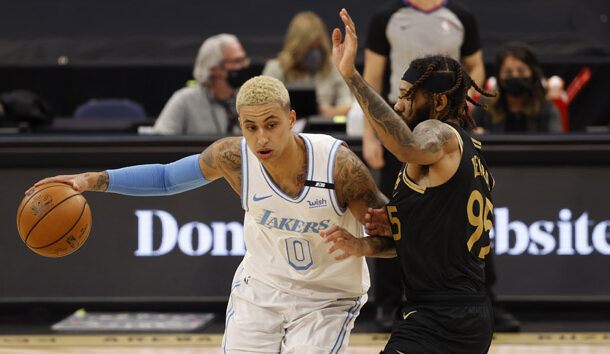 TAMPA, Fla. – Back-up guard Talen Horton-Tucker scored 17 points to lead seven Los Angeles Lakers in double figures as they staved off a torrid Toronto comeback, handing the Raptors a 110-101 setback in Amalie Arena on Tuesday evening. The Lakers led by as many as 34 points before Toronto fought back within nine in the in the second half before absorbing the loss.
Pascal Siakam led Toronto and all scorers with 27 points with 20 of those coming in the second half.
Markieff Morris hit three triples in a 19-6 Lakers run midway through the first quarter that turned a 12-9 lead into a 31-15 advantage with 4:28 remaining in the first.
Los Angeles was 13-of-22 from three in the first half and 18-of-40 for the game.
Three Stars of the Game –
  1) Pascal Siakam (27/7/2) – Siakam threw the Raptors on his back and came up big in the second half when it looked like they were going to get embarrassed. He went to the line 15 times and made 13 as he was huge off the dribble for the Lakers in the second half.
 2) Markieff Morris – (15/9/1) – Morris hit three key triples in the second quarter that sprung the Lakers into what was an insurmountable lead. His leadership, defense and assertion in the paint were also major factors.
 3) Talen Horton-Tucker – (17/4/6) – The Lakers love this Iowa State Cyclones product as he blends a quick step to the basket with a good three-ball. He played consistently throughout and looks like he might be a solid member of their playoff rotation.
 It was over when – Leading 40-28 at the outset of the second quarter, Los Angeles hit a 26-4 run over 7:51 that saw Morris score six points while Alex Caruso nailed a pair of threes off the left baseline. Toronto only had one field goal in the meantime as the Raptors were 1-of-11 from the field over that span.
 The Lake Show – Lebron James, Anthony Davis and Andrew Drummond are on the trip, but on the injured list. James sat at the end of the Lakers bench and often could be seen up coaching the younger Lakers and he also gave the team positive reinforcement every time they came off the floor.
 It's A Rap' – OG Anunoby wasn't long for this game as he and LA's Dennis Schröder became entangled with 2:24 remaining in the third quarter. Anunoby grabbed Schröder's leg after a play at the basket and laid him down on his back. Anunoby was ejected on a Flagrant-2 call, as was Montrezl Harrell who was an instigator in the fray as both teams came together and were pushing and shoving.