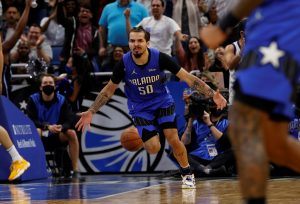 ORLANDO, Fla. – The Orlando Magic's 107-100 win over the Utah Jazz on Sunday showed the signs of a young team that is going up in coach Jamahl Mosley's first season.
Orlando led by as many as 15 points in the first half, but suffered a myriad of defensive breakdowns as the Jazz had an 11-3 run to end the third quarter and post an 85-72 margin after three.
The fourth quarter is where road teams often have a hard time sealing the deal. This was true for Utah as the Jazz had already lost the first of a back-to-back in an emotional, 118-115, decision on Saturday night in Miami.
Utah led 91-83 on two Rudy Golbert free throws with 8:36 to go. From that point, the Jazz went only 3-of-12 from the floor and the turned the ball over four times.
The Magic meanwhile rode 10 points down the stretch from guard Cole Anthony as he finished with a season-high 33 points, going 13-of-20 from the floor with five threes.
R.J. Hampton hit a three with 21.5 seconds remaining to seal the game as it put Orlando ahead, 105-100.
"It was a broken down play," Mosley explained. "He ended up with the ball fumbling everywhere and they ended up getting it out to him. He just stepped in with the confidence to just take the shot."
Carter showing up big time: Wendell Carter, Jr., came to Orlando in the trade that sent Nikola Vucevic to the Chicago Bulls and has become a primary starter in the post.
He finished with 22 points and 15 rebounds on Sunday night as he stepped out on the perimeter and hit a pair of threes in the first quarter, trying to pull Rudy Gobert and the taller Jazz players out of the paint so that guards like Cole Anthony and Franz Wagner could have more room to operate.
Carter has started the season averaging 13.7 points and shooting 50.8 percent from the floor. He is also displaying the three-ball range at 39.5 percent. He was 4-for-7 on Sunday night which set a season-high in both makes and attempts.
Magical Moments: Although Orlando started the season at 3-8, this is a solid group of young basketball players who will eventually develop a chemistry this season and become a tough out if they stay healthy.
Anthony leads Orlando in scoring at 20.2 points per game and is the unquestioned leader of this team at just 20 years old. Unbelievably, he is second on the team in rebounds with 7.1 behind Carter's 10.6.
Mosley has also empowered his rookies in Franz Wagner and Jalen Suggs and both have delivered double figures averages as Wagner has displayed an inside-outside game that has allowed him quick start with his three-ball.
Suggs was last seen before the season began hitting the three in the NCAA Final Four to allow Gonzaga to surpass UCLA in overtime. He finished his Bulldogs' career with 22 points as Gonzaga fell to Baylor in the national championship game.
He is off to a rough start this season shooting from the field, but he blows the ball up the court and is creating opportunities for his teammates. His 3.5 assists per game are second to Anthony's 5.1, but he finished with a season-low six points on Sunday.