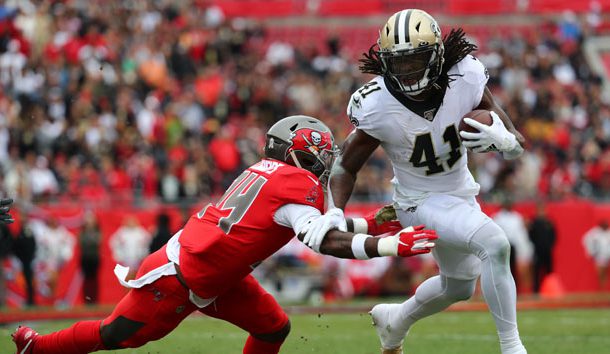 TAMPA — The New Orleans Saints came into Tampa Bay smarting after a 26-9 pounding at the hands of the Atlanta Falcons last weekend. The Saints restored the norm as quarterback Drew Brees threw three touchdown passes and Alvin Kamara was again a dominant force in Sunday's 34-17 win over the Buccaneers.
Kamara rushed 13 times for 75 yards and caught 10 passes for 47 yards. He won the matchups all afternoon with Tampa Bay's linebackers and paced an efficient offense that consistently dominated the Bucs' defense.
"You pick your poison with these guys," said Tampa Bay coach Bruce Arians. "We have a lot of coverages where we were trying to double 13 (Michael Thomas). Then, 41 (Kamara) or 87 (Jared Cook) gets involved. It's a really tough offensive football team and Kamara is a really tough cover for any linebacker."
Thomas, who caught a 16-yard touchdown pass from Brees to end the first quarter, finished with eight catches for 114 yards.
Just when it looked like Tampa Bay might make a move and threaten New Orleans, Thomas ran a drag route to the left side of the field and Brees hit him, as he turned a 2-yard pass play into a 41-yard gain to the Buccaneers' 16 early in the third quarter.
That drive ended with a 6-yard touchdown pass from Brees to Ted Ginn, Jr., as New Orleans put the Buccaneers back on the plank with a 27-10 advantage.
New Orleans dominated the first half and the first quarter, in particular. They had a 144-6 advantage in total yards in the first quarter as they had the ball for 13:19 seconds. The Buccaneers were able to hold them to a pair of Will Lutz field goals on the first two drives before an interception by Demario Davis set up the Brees touchdown pass to Thomas.
"We were trying to do different looks and they were able to counter back and do something different on us," said linebacker Lavonte David.
Arians knew that the Buccaneers had little room for error coming into the game.
"Too many mistakes to beat a good team and obviously when we drop passes and the quarterback gets an interception because we dropped a ball," he said. "Then the one before the half was big because we have a chance for a double score if we come out and score."
Defending Jameis: Arians has tried to deflect Winston's critics all season and rightfully so. He had four picks on Sunday though which pushed his number to 18 for this season. Winston has not had adequate pass protection (see his 35 times sacked) all season and receivers have mishandled balls that have gone through their hands and wound up in the arms of the defenders.
Arians says about 10 of those 18 picks are actually on Winston.
"Guys dropping balls and giving them to the other team … how many have we seen?" quizzed Arians. "I don't count those. He got hit low in the ankle and that last one flies out of his hand high. He probably should have come out of the game. He was too tough foe his own good there."
Offensively speaking: The speed and pressure on the Saints defensive Front-7 caused all sorts of problems for Tampa Bay's offense.
The running game was rendered useless because the Buccaneers fell behind quickly and had to call more of a passing game. The Bucs had only eight rushing attempts which equated to 36 yards. Meanwhile, Winston completed 30 of 51 passes for 313 yards.
"Whatever we need to do to give us a chance to win is what we will do," said Winston. "Obviously, we never want to be behind like that so we put ourselves in that hole."
With having to get away from a balanced attack, it allowed New Orleans to attack with the speed all the more. Winston didn't get into any rhythm all day as Mike Evans and Chris Godwin only had four and three catches, respectively.
Godwin did find the end zone on a 30-yard pass play in the third quarter.
"They did the exact same thing they did last time, even with one of their best defenders out," said Evans. "If I'm outside, it's pretty much a double team on me."