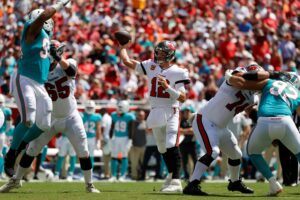 TAMPA – The Tampa Bay Buccaneers used a solid effort in all three phases of the game to rout the Miami Dolphins, 45-17, Sunday afternoon at Raymond James Stadium.
Quarterback Tom Brady passed for 411 yards and five touchdowns, marking the first time in his career that he passed for 400-plus yards and five scores.
It marked the second week in a row where Brady faced past coaches or teammates as Dolphins coach Brian Flores was on the Patriots' staff from 2008-2018.
"I've kind of played against some different coaches who have coached against me in the past and have coached with me," said Brady. "Just try to prepare every week the same, that's just the reality. Those coaches aren't the ones on the field playing; it's the players playing and I've got to get to know those players."
Brady hit Antonio Brown with touchdown passes of 62 and four yards and also tossed two to Mike Evans from 34 and 22 yards out after breaking the ice for the Bucs with a 10-yarder to Giovanni Bernard to start the afternoon.
"There's contribution from everybody and he trusts guys, so his understanding of what we're trying to do down inside the 25 and outside the 25, he can still throw that deep ball as good as anybody," said Buccaneers coach Bruce Arians.
The Buccaneers finished with 558 total yards and were 8-for-11 on third down and they were 4-for-6 in the red zone after they were 1-for-4 in last week's win over New England.
"I think all of us – 11 guys are seeing it the same way executing toward the same thing," noted Brady. "Everyone playing a different role at a different time."
Miami forced only one punt, while Tampa Bay missed a 60-yard field goal to end the first half and also took a knee to end the game. The Bucs scored on their other seven possessions.
What Brown did for the Bucs: Antonio Brown has been a continued success in coming to the Buccaneers and he had a stellar outing with 124 yards and the two scores on seven catches.
His first catch was the 900th of his career in his 143rd game and it was the quickest any player hit 900 catches in the history of the NFL.
"That is something I am very grateful for, but you know, I couldn't do it by myself," reminisced Brown. "I've been able to play with some great quarterbacks – Ben Roethlisberger, Tom Brady. It's a blessing to play with guys like that and be able to get the ball and be on that trajectory."
Brown's first TD catch was a crossing route to the left side of the field where Brady hit him for a 52-yard score and a 17-10 lead as Tampa Bay would never trail again.
He would also score on the next drive on a curl pattern in the end zone as Tampa Bay took a 24-10 lead to the locker room at the break.
"When he catches a ball, he's so sudden," Arians said. "When you're catching a drag route and you can turn straight north, you're going to lose that guy behind you. There are very, very few guys who can do what he does."
Arians said Sunday that Brown has done everything that he has asked and has turned into a major presence beside Mike Evans and Chris Godwin in the passing game.
"I think he's done an incredible job personally of putting a lot of those things aside and just focusing on football and just showing everyone how great he is," said Brady."
Defending RayJay: Miami put together a 16-play, 87-yard drive at the outset of the second half as running back Myles Gaskin had his second score of the day to cut the Buccaneers' lead to 24-17.
After that drive Miami only had the ball for 3:51 for the rest of the game as Tampa Bay turned up the heat defensively and controlled the game despite losing linebacker Lavonte David suffered an ankle injury.
"It was big for us, Coach (Todd) Bowles came in and gave us a message, the message was received, and we wanted to go out there and play the way we were supposed to be playing all four quarters and we were able to do it," said linebacker Shaq Barrett.
Barrett had 1.5 sacks and a forced fumble as losing David brought more time for Kevin Minter at linebacker where he had three tackles and a quarterback hurry.
"Being a player like 'Vonte' – he could have affected the game in any way possible," said Barrett. "We wanted to make sure we closed it out the way we were supposed to for him. But it hurt for sure not having him out there. We missed his leadership, his energy and his play-making ability."