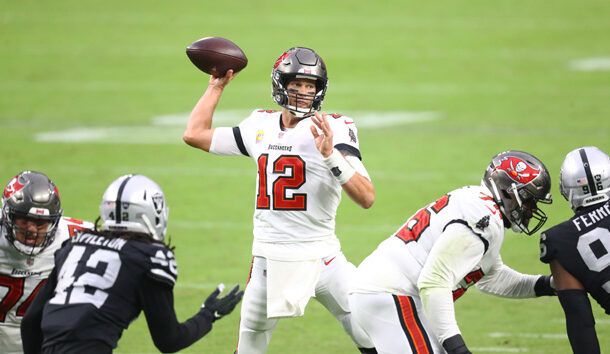 The Las Vegas Raiders bit at the heels of the Tampa Bay Buccaneers all afternoon in Sunday's 45-20 Bucs win at the Allegiant Stadium in Las Vegas, Nevada.
So much in fact that midway through the fourth quarter, the Bucs only led 24-20 and the Raiders seemed to be in position to get the ball back as Tom Brady and the Bucs' offense faced a 3rd-and-12 at their own 30-yard line.
Brady dropped back and found Leonard Fournette over the middle for a 13-yard pass play. This was the wind that the Buccaneers would need to set sail.
Brady converted two more third downs in that drive which ended with a 4-yard touchdown pass to Chris Godwin as Tampa Bay took the life out of the upstart Raiders in taking 31-20 lead with 7:29 to play.
"We knew they were going to play a soft cover-two," said Buccaneers coach Bruce Arians. "He looked down field and chucked it down to Leonard, and Leonard did a great job of going straight north and getting that first down."
Brady finessed the Raiders defense in getting a pass interference penalty on a 3rd-and-2 and then a 12-yard pass to Scotty Miller on a 3rd-and 4.
"Leonard made a great play on the one where I got it to him quick, and he got vertical and got the first down," said Brady. "Mike (Evans) got the pass interference on the one where he had the out and up. There were some really good plays that were made and glad we finished the game strong."
On the first Raiders play after that scoring drive, Antoine Winfield, Jr., picked off Derek Carr at the 40 and returned the ball 16 yards to set Tampa Bay up on the 24 and put the Buccaneers in position to close out the game.
Ronald Jones, who is having a break out season for the Bucs, then scored from 1-yard out before Brady completed a 6-play, 32-yard drive with a 1-yard touchdown pass to Tyler Johnson as the Buccaneers bludgeoned the Raiders for three touchdowns in just over four minutes.
Brady had another stellar effort as he completed 33 of 45 passes for 369 yards and four touchdowns. It was his 94th 300-yard passing game which pushed him past Payton Manning. He is still 28 behind Saints' quarterback Drew Brees' current total of 122.
Game Changer: The Buccaneers went on offense with 2:19 remaining in the first half while nursing a 14-10 lead. Brady then reminded the audience of his greatness with the 2-minute drill.
He drove the Buccaneers 88 yards in 13 plays and capped the drive with a 33-yard touchdown pass to Scotty Miller as Tampa Bay took a 21-10 lead to the locker room.
The drive gave the Buccaneers the momentum at intermission as the Raiders had gotten their feet under them and were looking like a solid threat to Tampa Bay.
"I thought it flipped the whole game around to get a touchdown before the half and finish it," explained Arians. "We knew the way they were going to play Mike, that Scotty was going to have a game and have opportunities."
Miller led the Bucs with six catches for 109 yards, which was the first 100-yard receiving game of his career.
"We just have to get him back in shape so he can do more of those things," Arians said. "We had it one more time and almost ran out of gas, but I thought Tom did a great job of finding him every time we had a shot."
Plus One: Much of the Buccaneers postgame was spent asking questions of Arians and Brady about the signing of Antonio Brown, who still has sexual assault allegations which haven't been cleared.
Arians noted that he would let the court system do its job as the Bucs are looking for help at wide receiver as Evans, Godwin and Miller have had injury issues this season.
"I think he has matured," noted Arians who laid out his plan to Brown once the signing was done. "I believe in second chances. Everyone wants to say that Tom picked him. Tom didn't have anything to do with him. This is something (Bucs GM) Jason (Licht) and I have been talking about every couple weeks, ever since the injuries to our other guys."