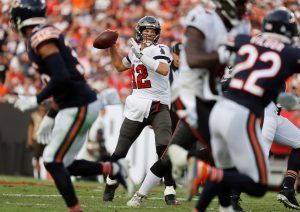 The circus left town while the lid was stuck on the honey pot and those were the "bear facts" as the Tampa Bay Buccaneers used a dominating performance to cage the Chicago Bears, 38-3, on Sunday afternoon at Raymond James Stadium.
Quarterback Tom Brady hit wide receiver Mike Evans with three touchdown passes and Brady became the only player in NFL history to reach 600 career touchdown passes.
"You guys go to practice and see him working on those drills day-in and day-out of staying and moving in the pocket when get he's outside and he
feels it," said Tampa Bay head coach Bruce Arians. "The great ones do feel it."
Brady hit Evans from nine yards out after Tampa Bay had scored on a 2-yard run by Leonard Fournette and Brady's 4-yard touchdown pass to Chris
Godwin. It allowed the Buccaneers to take a 21-0 lead in the first quarter which was a deficit that the struggling Bears offense was in no position to
overcome.
"There's nothing about this sport that you do by yourself – it's the ultimate team sport," said Brady. "It challenges you physically, mentally, emotionally, every week, every day of practice."
Evans gave Brady's 600th touchdown pass to a fan and he apologized to Brady.
"I said it's alright I'm sure they'll figure out a way to get it back," noted Brady. "I don't actually keep too many things, though in that circumstance, I
just felt like that might be a good one to keep." Of course, negotiations went on with the fan and he traded it for what might have been a jersey, a helmet and gear.
Brady came back to Evans for two more scores late in the first half as Tampa Bay led 35-3 at the end of the first 30 minutes. Despite seeing plenty of double coverage all afternoon, Evans also made a 46-yard catch over Chicago corner Eddie Jackson which set up his 2-yard touchdown reception.
"He got open on the deep route which was great, caught the ball on the fade," said Brady of Evans, who keeps rewriting the Buccaneers receiving record books. "He just does a great job; I mean he is an incredible receiver – he's so gifted in every way. He's quick; he's tough; he's strong; he's physical."
Defensive Masterpiece: It took plenty of brush strokes to capture this defensive work of art as it was almost a perfect storm with rookie quarterback Justin Fields learning on the job with a challenged Bears offense.
The Buccaneers forced him into three interceptions as one of those came off receiver Darnell Mooney's hands. Then, he had two fumbles on sacks by Shaq Barrett and Jason Pierre-Paul.
Bucs backup defensive back Dee Delaney picked up the first interception in the first quarter and returned it 27 yards to the Bears' 40. It set up Brady's first touchdown toss which was a 4-yarder to Chris Godwin.
"Coaches told us to be on the receivers all week because it's a running quarterback because he likes to scramble," said Delaney. "I just stay plastered to my man, and he just threw me one."
The Buccaneers have had every starter out in the secondary at some point so far this season so backup defenders including Delaney and Russ Cockrell have had to come in and keep things in step.
"Every day you go to work you just have to prepare like you're going to be a starter," said Delaney. "You never know who is going to play and who is not going to play."
A new entry into the secondary, Pierre Desir, intercepted Fields on the first play of the fourth quarter.