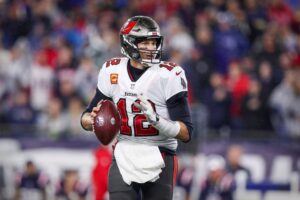 The Tampa Bay Buccaneers used the workmanship of running back Leonard Fournette to strike early as they controlled their 28-22 win over the Philadelphia Eagles by rolling up a 28-7 lead after the third quarter at Lincoln Financial Field.
The one outstanding constant was the continued solid play of Fournette, who has taken hold of the Buccaneers rushing attack and has worked to push it forward.
Fournette rushed for 81 yards on 22 carries and two touchdowns. This was the most yards he has produced this season, except for his 92 yards against New England two weeks ago.
"Lenny has been really, really good – really solid," said head coach Bruce Arians. "Run and pass and pass protection. He's playing as a really good three-down back at a high level."
Fournette capped a pair of long drives with short touchdown runs as he scored from two yards out to cap an 11-play, 72-yard drive, then had a one-yard score in the third quarter which gave the Buccaneers a 28-7 lead with 5:47 left in the period.
"He's a great back," noted quarterback Tom Brady. "He's big, tough, catches it, runs, blocks, does everything for us. It is great to have him in there. Obviously when he's rolling, it's tough to stop us."
Fournette discussed the rhythm that he has been able to get into over the last several games where he has provided the prolific passing game with the presence of a running attack.
"Throughout the week, we had a game plan and I try and follow that as much as I can down to the core to help my team out and put us in a better position," explained Fournette. "That is all I am doing."
Fournette has had the fortune of Brady working with him in the passing game as well. He has 25 catches for 213 yards, averaging 8.5 yards per catch with the longest being a 23-yard pass play.
The former LSU Tiger explained how he and Brady were in such sync in the passing attack.
"We go extra routes," said Fournette. "He's trying to tell me what he likes, what he thinks the route should be and I just follow."
Injuries abound: The Buccaneers have been one of the most injured teams in the NFL this season, but have kept pace by going 5-1.
Brady was 34-of-42 for 297 yards with two touchdowns and an interception after working with the aggravation of a thumb injury which limited him in practice during the week.
The injury situation has gotten ridiculous as newly acquired defensive back Richard Sherman left with a hamstring injury and didn't return.
The secondary is in such a flux that Carlton Davis and Sean Murphy-Bunting, two starters, continue on the IR and strong safety Antoine Winfield, Jr., was out. Arians hopes he will be back for Sunday's game vs. the Bears.
"We just keep playing with the guys that we have," said Arians. "We'll see what happens. We'll see how long of an injury it is and next man up."