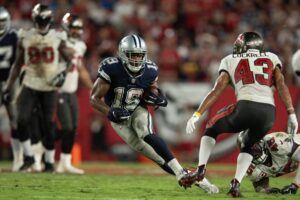 Coming off their 31-29 win over Dallas last week, the Tampa Bay Buccaneers know that they have to clean things up on offense as four turnovers and 11 penalties for 106 yards will not be the recipe for repeating as NFC champions, much less Super Bowl champions.
In addition, they never turned Dallas over, so being (-4) in turnover differential was also a scenario that cannot become the norm.
The end of this game was phenomenal and as Tampa Bay goes into next week's home game with Atlanta, the Buccaneers are going to look for consistency and efficiency in cleaning up their games on both sides of the football. If the Bucs can make that happen, a solid win over rebuilding Atlanta should be in the offing.
Tampa Bay didn't have the cleanest of victories with those four turnovers, although one of Brady's two interceptions was off Leonard Fournette's hands and into the arms of Dallas defensive back Trevon Diggs and the second was on a Hail Mary at the end of the first half.
It was the final result that mattered though as Brady drove the Buccaneers to the Dallas 18-yard line and Ryan Succop hit a 35-yard field goal with six seconds remaining that allowed the Bucs to get past the Cowboys in a Thursday night thriller.
Brady hit Chris Godwin with an 18-yard pass to set up Succop's field goal. This came after Godwin fumbled the ball on the Cowboy's two-yard line on the previous drive as he was struggling to get the ball into the end zone.
"I knew I wasn't so close to out of bounds that I needed to toe-tap or anything," explained Godwin. "I'm more upset that I didn't realize he fell because I probably could have scored on that. I was thinking just get out of bounds, but it's something to learn from."
Dallas quarterback Dak Prescott then drove the Pokes 60 yards in 11 plays as Greg Zeurlein hit a 48-yard field goal with 1:24 remaining to give the Cowboys a 29-28 lead.
Godwin, who had scored the game's first touchdown on a play-action pass from Brady, atoned for the unlikely error.
"He's going to fight for every inch and sometimes – he got a good lick put on him – he's going to bounce right back and then make that big play," said Buccaneers coach Bruce Arians.
Brady engineered the 49th come-from-behind victory in the fourth quarter of his career.
QB Dual: Brady and Prescott staged a show through the passing game and that was a key theme in the season opener for the NFL season.
Brady threw for 379 yards and four touchdowns as he completed 32 of 50 passes. He tossed two touchdown passes to tight end Rob Gronkowski and one each to Chris Godwin and Antonio Brown.
Gronkowski caught a two-yarder and an 11-yard TD from Brady and then had a 20-yard catch on the game winning drive.
"He's had a great camp," noted Brady. "I knew he was going to have a great game tonight and be prepared. Obviously, we went to him there on the two-minute drive. He had a huge catch and run."
Brady hit Brown on a 47-yard touchdown throw that gave Tampa Bay a 21-16 lead with 2:38 to play in the first half.
Brown gave a quick dig and then went on the fly past Cowboys' corner Anthony Brown.
"I'm never surprised," said Brown. "I just react in the moment. Tom made a great throw and I was able to make a great play."
Prescott went for 42 for 58 for 403 yards and three touchdowns. The play-action game was a fixture in taking advantage of the missing pieces in the Tampa Bay secondary.
The Buccaneers played the game without safety Jordan Whitehead, who was missing with a hamstring injury, and Sean Murphy-Bunting went down early in the game with a dislocated shoulder.
It forced nickel-man Jamel Dean into the game and Prescott repeatedly picked away at him as Dallas had two receivers in Amari Cooper (13-139-2) and CeeDee Lamb (7-104-1) go over 100 yards.
"He's going to get better," said Arians, of Dean. "He made some plays, big tackle down there when they threw the screen. He's going to get thrown at. That's part of playing corner."
Pokes on the Range: As the Cowboys go into this week's matchup against the surging LA Chargers at the new Sofi Stadium in Los Angeles, the memories of this loss to Tampa Bay and how it happened have to linger.
You had Prescott executing one of the best games of his career, yet it still went in the 'L' column.
To have a victory pulled from your clutches, as Brady is known for doing, has to be on these guys minds if Sunday's game against the Chargers gets to the fourth quarter and the outcome is in doubt.
Dallas scored 13 points off of the Bucs' four turnovers. The Cowboys were opportunistic, yet, couldn't take advantage of Brady on the last drive.
That is an underlying thing these days when you play Tampa Bay.