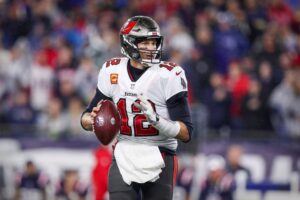 A rainy, damp night in Foxboro, Mass., was only one of a multiple issues facing the Tampa Bay Buccaneers (3-1) in Sunday night's 19-17 win over the New England Patriots (1-3).
The Buccaneers not only had to face the staggering Patriots, who were playing out of desperation, but also the over-hype for the venerable Tom Brady's return to New England. To carry the obstacles to another level, the Bucs fought with an injury-riddled football team that now has lost cornerback Carlton Davis, III. Seven penalties that derailed the team didn't help either as the Buccaneers offense had a hard time finding chemistry and precision all evening.
"There was a lot of adversity with the weather conditions and some plays we could have done better and some things we could have done better, but as always it is great to digest things after a win," said wide receiver Antonio Brown, who had seven catches for 63 yards.
Ryan Succop kicked four field goals for the Buccaneers who turned this game over to their defense, which through for the win. Succop's last field goal came from 48 yards out with 1:57 to go as Tampa Bay retook the lead for the fourth and final time.
"I would've liked to see us execute a little bit better," said Tampa Bay head coach Bruce Arians. "I thought early we should have run the ball a little bit more. When we did, we had some success. We got a little greedy trying to go for touchdowns right away."
Brady broke Drew Brees' passing yardage record in the first half when he hit Mike Evans on a 28-yard pass play that set up Succop's 29 yard field goal.
Meet and Greet: The reintroduction of Brady to Pats' coach Bill Belichick and the New England sports scene in general was an over-hyped media production all week. Arians continually tried to quell things whenever this was brought up as he repeatedly offered that this was just another game.
Brady completed 22 of 43 passes for 269 yards as he really did react with the precision of a surgeon on a night when he was missing tight end Rob Gronkowski due to fractured ribs. He spread the ball around and was able to move the Buccaneers so they could get close enough to let Succop secure the game.
The emotion and the sheer ambiance of this week had to have an effect on Brady. This was not just a homecoming, but a reintroduction of potentially the greatest player in the game's history, coming back to where he led the Patriots to nine Super Bowls as they won world championships in six of those.
"It was a little bit back and forth," Brady said. "Couldn't really quite get the ball in the end zone, so that was a little bit frustrating. They just do a good job of – I think between trying to understand what they were going to do defensively and then also dealing with the weather. There were some unique challenges tonight."
B & B: Brady came on the field late for pregame warm ups and the Boston-based fans cheered him when he appeared and in the pregame introductions. However, the boos poured throughout the stadium when he took the field for the first time as the Buccaneers went on offense.
This "feud" between Brady and Belichick took a life of its own all week and bubbled out of proportion. They shook hands in the pregame and then Belichick came over and hugged the quarterback in the postgame.
Of course, both weren't going to comment on their relationship or what was said.
"You know, as I said earlier this week, from a player's standpoint, you just expect the coach to give you everything he's got, and I'm sure as a player that's what he was hoping from me," Brady explained. "But nothing is really accurate that I ever see. It all kind of definitely doesn't come from my personal feelings or beliefs."
Going for a Run: Without a running game, the Buccaneers probably would not eek out this win. Tampa Bay has struggled to find a running attack again this season so far, but Leonard Fournette answered the bell as he carried the ball 20 times for 91 yards and caught three passes for 47.
It was by far, the best and most consistent rushing attack that the Buccaneers have posted all season. They finished with 119 yards on 30 carries, while the Patriots ran eight times for minus-1 yard.