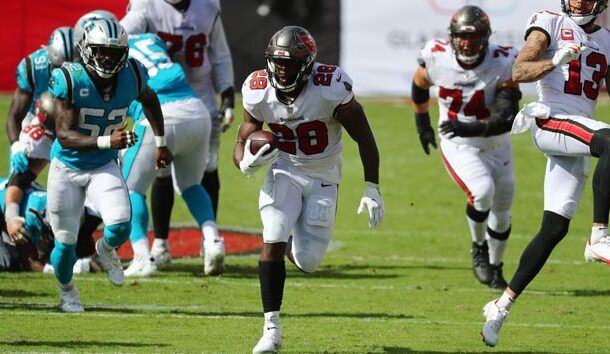 The Tampa Bay Buccaneers' defense is growing up immeasurably in Todd Bowles' second season as defensive coordinator. The greediness with which they take away the football was highlighted in Sunday's 31-17 win over the Carolina Panthers at Raymond James Stadium in Tampa.
The Buccaneers' defense accumulated 29 turnovers in their 7-9 season a year ago in head coach Bruce Arians' first year, so he and Bowles put a premium in training camp on turning teams over more rapidly and with more consistency.
Tampa Bay couldn't generate any turnovers in last week's 34-23 loss at New Orleans, but Sunday was a different story as the Bucs pilfered four. Maybe the biggest came in the fourth quarter.
The Panthers had rebounded from a 21-0 deficit and were moving the football as they were down 21-14 and quarterback Teddy Bridgewater had taken Carolina to midfield. William Gholston, who was a challenge all afternoon for the Panthers, pressured Bridgewater who threw the ball just behind wide receiver D.J. Moore.
Cornerback Carlton Davis picked it off on the Tampa Bay 38. Although the Bucs only managed a field goal off the interception, it increased the lead to 24-14 as two scores proved to be too much for the Panthers to overcome.
"Turnovers come in bunches and they're week-to-week," said Arians. "We had our hands on balls last week – we didn't catch them. I thought defensively we set the tone with this whole ballgame getting turnovers."
Jordan Whitehead started things early with the Buccaneers' first turnover of the season as he picked off Bridgewater on Tampa Bay's 22-yard line.
Brady then orchestrated a 10-play, 81-yard drive that ended in a 7-yard touchdown run by Ronald Jones.
"We're all young and just ready to make plays," explained Whitehead. "We want to be the best. I know everybody I've talked to on the back end, they want to make plays and they love this game so we take pride in that."
It was more of the same on the next Panthers possession as rookie safety Antoine Winfield, Jr. shed a block and caught Bridgewater from the backside to force him to fumble. Jason Pierre-Paul recovered the ball on the Carolina 23.
This set up a 23-yard touchdown toss from Brady to Mike Evans which gave Tampa Bay a 14-0 lead at the end of the first quarter.
"They both tackled well and that was big in this ballgame," Arians said of Whitehead and Winfield. "Jordan had a big interception. Antoine continues just continues to make play after play and is in the right position. He studies the game, so he's in the right position all the time."
The Buccaneers' pass rush was enormous on Sunday as Bridgewater was sacked five times in addition to his two picks.
"I think we got 14 points off of that and then at the end, Carlton closed the game out with an interception," said Whitehead. "Those are game-changers right there. You have to get interceptions; you have to force turnovers to win this game, and we did a great job with that today."
Devin White finished with 15 tackles, while Winfield tallied 11. Ndamukong Suh had two of the five Tampa Bay sacks.