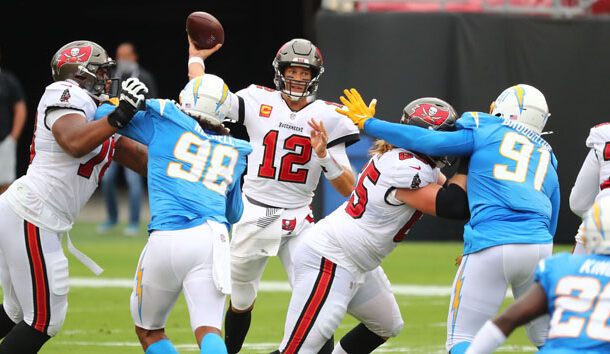 TAMPA, Fla. — Of all of the great things that have been done by six-time Super Bowl champion Tom Brady, there was never having an afternoon where he found five different wide receivers for touchdowns in the same game.
That was saved for Sunday when Tampa Bay needed every one of those five touchdown passes to erase a 17-point deficit to fend off the Los Angeles Chargers, 38-31, at Raymond James Stadium.
Brady became the fifth Buccaneer to throw five touchdown passes in one game and he also now won his 222nd game, passing former Patriot teammate Adam Vinatieri for the most in NFL history.
Brady had problems early as Chargers cornerback Michael Davis jumped an out-pattern by Justin Watson, which resulted in a 78-yard interception for a Chargers touchdown and a 14-7 lead with 3:55 remaining in the first quarter.
"I thought he just played outstanding," said Bucs coach Bruce Arians about Brady. "I just have to coach him up better on that one play (interception) and just get it coached better. He played fantastic and was lights out in the second half."
The Chargers would score 24 unanswered points to take a 24-7 lead before Brady found Mike Evans for a six-yard strike after a Chargers fumble just before halftime. Then he connected on touchdown tosses of 28 and19 yards to O.J. Howard and Scotty Miller for a 28-24 lead after three quarters.
After Tampa Bay fell behind once again on Chargers' quarterback Justin Herbert's third touchdown pass of the afternoon, Brady capped a 7-play, 75-yard drive with a 9-yard touchdown pass to rookie Ke'Shawn Vaughn to give Tampa Bay a 35-31 lead with 11:05 remaining.
Brady finished the game completing 30 of 46 passes for 369 yards and those five touchdowns. He staked the Bucs to an early 7-0 lead as he found tight end Cameron Brate on a 5-yard touchdown pass just five minutes into the first quarter.
Arians said that he was looking to get more targets for Evans and on Sunday, he caught seven passes for 122 yards and the score as he was targeted eight times despite tweaking his ankle early in the game.
"We were coming into the game hoping to get (Evans) 15-18 targets," noted Arians. "He missed a little bit of time in there or I think he would've gotten it. Huge day for Mike and this is one of the teams that they played some double coverage, but not much."
GAME CHANGER: In one of the most exciting games of the NFL season at the quarter point, an unlikely turnover late in the first half took away momentum from the streaking Chargers.
Herbert handed off the fellow rookie Joshua Kelley, who did not handle the football cleanly. Bucs defensive end Ndamukong Suh was credited with the forced fumble and Devin White recovered it on the Chargers 6-yard line.
"It shifted the momentum in the game and it happened right before halftime, which was good for us because we were able to go back and adjust and make some changes," said Buccaneers cornerback Carlton Davis, who intercepted Herbert late in the game to preserve the win.
Brady hit Evans in the back of the end zone for a 6-yard scoring strike which cut the Los Angeles lead to 24-14 at halftime.
Kelley was in the game after Austin Ekeler went out of the game late in the first quarter with a hamstring injury and never returned.
NEW BREED: Buccaneers second-year wide receiver Scotty Miller and rookie running back Ke'Shawn Vaughn came up big in the passing game on Sunday.
Miller caught a 19-yard touchdown pass that rallied the Buccaneers to a 28-24 lead after three quarters. The score came on the heels of a 45-yard pass from Brady which was the first of the two-play scoring drive.
"I think that first one was my first catch of the game," said Miller. "I was pretty tired after that one. But, (offensive coordinator) Byron (Leftwich) called a great play for me the next play."
Vaughn debuted in the passing game after a brief appearance two weeks ago in the Bucs' win over the Panthers.
He caught a 9-yard touchdown pass in the fourth quarter to give Tampa Bay the lead for good at 35-31. He was pushed into duty when LeSean McCoy went out in the second quarter with an injury.
"He didn't think he was going to get much action and I told him, 'Hey, you never know and when it comes, it's going to be extremely important – so be ready.' He was a hell of a catch, a hell of a run getting that thing in the end zone."
TAKING CHARGE: Rookie Justin Herbert continued his hot start to his career for Los Angeles as he finished with 290 yards with three touchdowns completing 20 of 25 passes.
Herbert led the Chargers to 24 unanswered points with his touchdown passes of 53 yards Tyron Johnson and 19 yards to Donald Parham. This allowed the Chargers to take a 24-7 lead late in the first half.
"Kudos to him. As a rookie quarterback, he really came in prepared," Davis explained. "His accuracy was really good. He's going to be a really good player, but we just had to make some adjustments in the run game and continue to play top-down football on the back end."
After LA fell behind 28-24 in the third quarter, Tampa Bay safety Sean Murphy-Bunting lost contact with wide receiver Jalen Guyton and Herbert hit him on the money with a deep ball to push the Chargers back in the lead at 31-28 at the outset of the fourth quarter.
"That retreating play looked like (Chiefs QB Patrick) Mahomes where we had an all-out blitz and he just kept retreating and threw a dime down the field. For rookies to make plays like that, you know they're special."