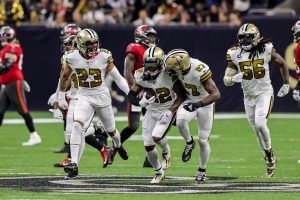 The building once known as the Louisiana Superdome is nothing more than a House of Horrors for the Tampa Bay Buccaneers as the Saints have won nine out of the last 12 games in what has become one of the more bitter rivalries in the NFL.
Halloween would have the same tenor in a ghoulish nightmare that saw the Saints drive past the Bucs, 36-27. New Orleans took advantage of 11 penalties for 99 yards on Tampa Bay and turned the Buccaneers over three times.
The costliest turnover was the last one after New Orleans had retaken the lead, 29-27.  Saints defensive back P.J. Williams picked off quarterback Tom Brady, who tried to fit the ball into a small window.
"He was forcing one at the end," said Buccaneers head coach Bruce Arians. "That performance was not characteristic of him."
Nor was the performance characteristic of the Buccaneers, who usually play with discipline and win the mind game with their opponents, but Sunday was a different animal.
Brady was picked off twice despite passing for 375 yards and four touchdowns.
The first interception was also costly as C.J. Gardner-Johnson picked off Brady late in the first half as the Buccaneers trailed, 10-7. Gardner-Johnson returned it 26 yards to the Tampa Bay 35 and it set up a 1-yard touchdown throw from backup quarterback Trevor Semien to Alex Armah with 27 seconds left in the first half.
"It's tough to win when you turn the ball over like we did," said Brady. "I have to not throw interceptions. That's the key."
The penalties were a costly part of the debacle as seven of those came against the defense and accounted for 64 yards. They were reasonable for six first downs and 13 points.
"I thought it was an embarrassing display of football," said Arians. "Of all things we talked about coming down here – what it takes to win and to play like that, it starts with me. Obviously, we weren't ready to play – penalties, turnovers, you're not beating anybody that way."
The win placed New Orleans at 5-2 as the Saints are now a half-game off the 6-2 Buccaneers. They can pull into a first place tie with Tampa Bay this weekend as they match up with the Falcons, while the Buccaneers are on their bye-week.
Jameis Exits: New Orleans quarterback Jameis Winston has played well this season under the tutelage of head coach Sean Payton as he came into Sunday's game with 13 touchdown passes and only three interceptions in a disciplined passing attack.
After Devin White tackled him and was flagged for a horse-collar tackle, Winston exited Sunday's game in the second quarter with what was reported as an ACL injury.
White, who had three personal foul penalties on the afternoon, was remorseful of the play on Winston which sent him to the sidelines.
"He's a great guy and I hate to see that happen," said White. "I hope it's not serious. I'm praying for him, and it's a long season, so I hope he can come back and fight with his team."
Brady's Day: While Tom Brady's two interceptions are going to crash the radars on another tough day against the Saints, he did throw four touchdown passes that poised the Buccaneers to potentially have a come-from-behind victory.
He set the NFL record with what is now 38 games with four touchdowns and 98 games with three or more. He was 36-1 in games where he had thrown at least four touchdowns, coming into the game on Sunday.
Tampa Bay started the second half with a pair of Brady touchdown passes of seven yards to Giovani Bernard and 41 yards to Mike Evans to cut the lead to 23-21 with 1:15 left in the third quarter.
He hit Cyril Grayson on a 50-yard strike with 5:44 remaining to give Tampa Bay a 27-26 lead with 5:15 to play.
"He got in there, got behind the defense and made a great catch," said Brady.
Chris Godwin had a huge afternoon for the Bucs with eight catches for 140 yards. His 12-yard scoring catch with 8:28 left in the first quarter gave the Buccaneers an early 7-0 lead.
"I have to keep getting him the ball," Brady said. "He played a great game. All the receivers did."