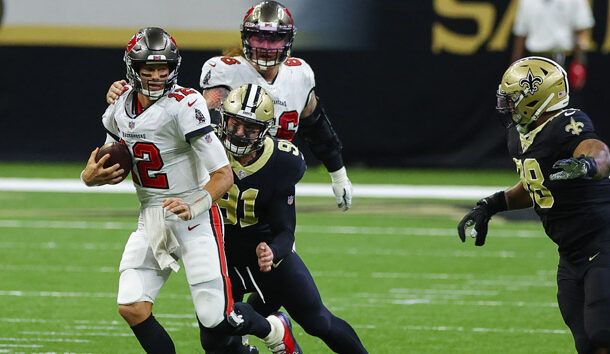 When sifting through the fallout of the Tampa Bay Buccaneers' 34-23 loss to the New Orleans Saints on Sunday, there was a stark reminder of a team on the march, but also several reminders of that team that still has to come together and work as an entire unit in order to challenge the Saints for NFC South supremacy.
Too many people had not only penciled in, but had inked in, the Bucs as a Super Bowl participant which would put them in their own Raymond James Stadium in early February.  With Tom Brady settling in the Bay Area and with the coaxing of Rob Gronkowski out of retirement and then last week's signing of running back Leonard Fournette, lofty goals are rightfully expected.
But, Brady was only okay on Sunday.
He threw two interceptions – one of which was a solid break on a read by Saints corner Marcus Lattimore that ended in a pick-six. The other was a miscommunication between Brady and Mike Evans on a deep ball which gave Janoris Jenkins the Saints' first interception of the season.
"It's a game of execution," said Brady. "Obviously, they made more plays than we did and I just had some bad, terrible turnovers and it's hard to win turning the ball over like that. I obviously have to do a lot better job."
Brady held a positive vibe though with touchdown passes to tight end O.J. Howard and wide receiver Chris Godwin. Howard was the 22nd tight end to whom Brady has tossed a touchdown pass to in his 21-year NFL career.
He also scored on a two-yard run to open scoring as he capped a nine-play, 85-yard drive with a two-yard touchdown run on the Bucs' first drive.
"We had some success. We had some good drives and we had some really poor drives," said Buccaneers head coach Bruce Arians. "But the turnovers and the penalties were the key."
The entirety of the loss re-enforces that the Buccaneers are a work in progress and as the season moves forward, they will develop chemistry and timing which should bring progress on both sides of the football.
With that, there are some issues that are all fixable and can be worked out even by Sunday's home opener against the Carolina Panthers.
"The Saints didn't do some of the things we did to ourselves, so we have to play better," explained Arians. "There are 16 games. We can win this division without a doubt."
OFFENSIVE LINE – The offensive line which has been a work in progress for several years had a tough time with the speed and physicality of the New Orleans defense. The Saints sacked Brady three times and stopped the running game, although Ronald Jones had 66 yards on 16 carries.
Tampa Bay has returnees on the offensive front, but added first-round pick Tristan Wirfs at tackle. You only have to go back to last season to see how out of sorts Jameis Winston was when he was sacked 47 times.
TURNOVERS AND PENALTIES – This is fixable and that should come with Brady and his receivers being on the same page. Brady accepted blame for his two interceptions, while the team was stuck with nine penalties for 103 yards.
Arians talked about how uncharacteristic the miscues were as the team did not transfer its execution from the practice field into the actual game.
"That's the most disappointing thing – the way we played – the mental errors and the penalties," he said. "We practice fourth-and-short and we never jump offside 100 times."
YOUNG SECONDARY – This unit is finding its way, especially where Carlton Davis and Jordan Whitehead enter their third season and Sean Murphy-Bunting is in his second year.
Tampa Bay started rookie Antoine Winfield, Jr., at safety where he had six tackles and a quarterback hit.
Arians said he thought the defense played good overall in the second half.
However, the turning point of the game was a blown coverage in the secondary where Jamel Dean lost contact with Saints tight end Jared Cook and Drew Brees hit him for a 46-yard pass to the Tampa Bay 15-yard line early in the fourth quarter.
Brees found Emmanuel Sanders four plays later for a 5-yard touchdown pass as New Orleans took a 31-17 lead with 11:44 remaining.
Lavonte David and Devin White had 11 tackles each as they were aggressive all afternoon, but the Buccaneers couldn't turn the Saints over.
"Some of the big plays that were given up were communication errors on our part," said David. "They got us with a couple of gadget plays, a couple of screens and misdirection stuff, but all-in-all we played solid. Like I said, we always could be better."