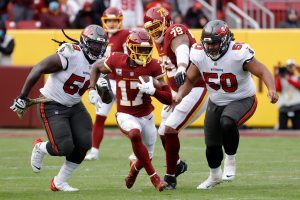 Sometimes you just have to shrug your shoulders, open up your arms and admit you can't understand.
That's what happened Sunday with nearly everyone involved in the 29-19 loss that the Tampa Bay Buccaneers were dealt by the Washington Football Team. Once quarterback Tom Brady threw interceptions to end the first two drives, the Super Bowl champions put the out-to-lunch sign on the door and never returned.
It was an inexplicable loss coming off the bye week as it was Washington's first win against Tampa Bay since 2015 and also the first time Washington had defeated a team quarterbacked by Brady since 2003.
"Maybe some guys had it in their mind that we would just come out and beat a team coming off of the bye and do things that same way we did last year," noted Bucs linebacker Lavonte David. "It's a different year. You have to have a different mindset and it showed."
Most players attributed this de-BUC-le to a lack of focus and a lack of energy in taking care of business. Washington had lost four in a row and had fallen to 2-6 in the "NFC Least."
In the Bruce Arians Era, it's not in Tampa Bay's DNA to not pay attention to what's on the table and take care of it accordingly. Sunday was different as the Buccaneers never made it to the table and were affected with a most undesirable brand of indigestion served up by a struggling, straggling Washington Football Team.
"In this league, whether the team is doing good or doing bad, ain't nobody just gonna roll the ball out there and say, 'Come kick our tails.' So, that was the thing we focused on the most," said Bucs linebacker Devin White. "Had a great week of preparation, but it don't mean nothing if you don't execute on Sunday."
The two interceptions happening so quickly seemed to stun the Buccaneers as Washington added two field goals and a 20-yard touchdown pass from Taylor Heineke to DeAndre Carter as Washington jumped on top of Tampa Bay, 13-0, and the Bucs never revived.
Long drives ended in field goals and the Bucs did not play a clean brand of football as they weren't able to execute in the clutch on each side of the football. They had six penalties, which came at inopportune times, for 43 yards.
"I know we're a better team than them and we didn't get the job done," said wide receiver Mike Evans. "That's why you play on Sunday. You gotta go out there and give it your best because that's an NFL team and they're a solid team and they got the job done tonight."
Arians wasn't as kind as Evans.
"It is all about execution and being a smart football team," said Arians. "We are a great, dumb football team and that is a reflection of the coaches."
Tampa Bay looked like it might still have time to pull the game out in the fourth quarter when Evans caught a 40-yard touchdown pass to cut the deficit to 23-19.
However, the improbable happened as Washington took over the football with 10:55 remaining and for all practical purposes, Tampa Bay didn't get the ball back.  WFT marched 80 yards in 19 plays and bled 10:26 off the clock as Antonio Gibson scored on a 1-yard run with 29 seconds remaining for the 29-19 advantage.
That was a statement on how lackadaisical the day was for the Buccaneers in losing a game that potentially could cost them home field advantage in the NFL playoffs.
"We pride ourselves on defense and we've lost too many games and given up the lead too many times in the fourth quarter," said Arians.