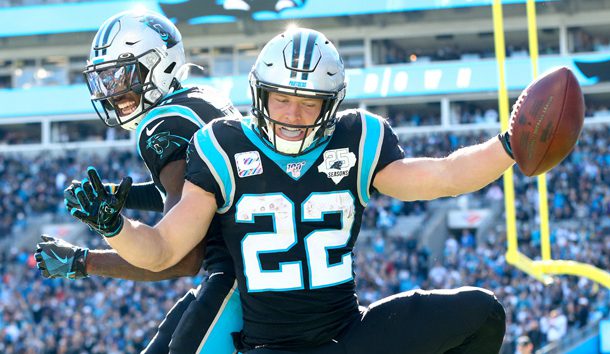 CHARLOTTE, N.C. — The Carolina Panthers returned home after five weeks on the road and defeated the Tennessee Titans, 30-20, at Bank of America Stadium.
After getting destroyed last week in San Francisco, the Panthers had flashbacks of last year's midseason collapse and knew that they need to get back on track this week. The victory was a big one for the Panthers (5-3). A year ago, the Panthers suffered a 52-21 loss to the Pittsburgh Steelers and went on to lose seven consecutive games, knocking them out of playoff contention.
Head coach Ron Rivera was determined not to let that happen again and talked all week about doing it with "actions, not words."
Rivera lived up to his own words, twice showing confidence in his players to make plays in crucial situations. He went for it on fourth-and-2 early in the game, a gamble that resulted in a 7-yard touchdown pass from quarterback Kyle Allen to a wide-open Christian McCaffrey, who had released out of the backfield and into the flat uncovered.
Then in the third quarter, Rivera signed off on a fake punt on fourth-and-4 from his 36 that swung the momentum to Carolina.
The story of the game was once again third-year running back McCaffrey turning in another spectacular performance with 166 all-purpose yards and three touchdowns. After McCaffrey sprinted 58 yards to the end zone for his third touchdown of the game, Panther fans began to chant "MVP! MVP!"
"Well deserved," said Panthers quarterback Kyle Allen. "He's the heart and soul of our offense and the heart and soul of our team. Three touchdowns today. … Those plays change the game – and he does that week in and week out."
McCaffrey said that he heard the MVP chants. "That was pretty cool," he said. "We have a lot of ball left. But, I'm very appreciative of that."
Allen, who threw three interceptions in last week's loss to the 49ers, bounced back and threw for 232 yards and two scores to improve to 5-1 this season as Carolina's starting QB and won the duel of backup quarterbacks. Titans QB Ryan Tannehill threw two interceptions and was sacked four times. Allen will start next week at Green Bay, Panthers Coach Ron Rivera said.
Members of the Panthers defense placed defensive end Mario Addison's jersey on the bench before the game. Addison did not attend the game because he's still dealing with the death of his brother, who was killed last Sunday in Birmingham, Alabama.
"It's a very difficult time one of our guys is going through and a lot of these guys want to be there for him," Rivera said.
Next week the Panthers will travel to Green Bay to take on the Packers. Allen and McCaffrey were asked about the challenge of playing at Lambeau Field.
"It's exciting, man. My family grew up in Wisconsin, and Milwaukee, and I grew up watching Green Bay games," Allen said. "To be playing Green Bay, against a great team who is playing really well right now, is going to be an awesome challenge. We're going to watch this tape and see what it is and move on to the next week, but I know we're excited."
McCaffrey was also looking forward to the trip to Green Bay.
"That will be a lot of fun. I've played a few snow games in my life just growing up in Denver, so I'm kind of excited for it," he said. "Those are some of the games that I remember the most growing up. It's a great challenge; they're a heck of a football team and we're going to have our work cut out for us"
Watch the Lindy's Postgame Report Here