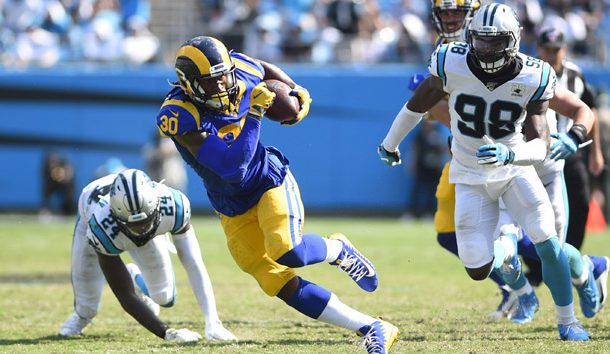 The Carolina Panthers opened their 25thAnniversary season against the defending NFC Champion LA Rams but made too many mental mistakes and missed opportunities and came up on the short end of a 30-27 score.
The Rams led the entire game but had to hold off a second half rally by the Panthers.
Despite all the mistakes, the penalties and the unfortunate headset malfunction – the Panthers were in position to take the lead against the Rams in the fourth quarter of Sunday's season opener. The Panthers blocked a punt deep in Los Angeles territory in the fourth quarter, setting up a 2-yard touchdown run for running back Christian McCaffrey to cut the deficit to 23-20.  On the Rams next possession, Panthers defensive back James Bradberry picked off Jared Goff's pass at the Carolina 29-yard line. Following Bradberry's interception, the Panthers went three-and-out. The Rams responded with a seven-play touchdown drive to push their lead back to 10.
When the Panthers got the ball back, Newton was intercepted by Rams linebacker Cory Littleton.
"Cam is a readable guy," said Rams linebacker Cory Littleton, who finished with 14 tackles, an interception and a fumble recovery. "He gave me an opportunity and I read it perfectly."
A late touchdown run from fullback Alex Armah made it a three-point game, but it was too little too late.
Christian McCaffrey was the star of the day for the Panthers, racking up 209 yards from scrimmage and two touchdowns on 29 touches, picking up where he left off last season.
Rams two-time NFL Defensive Player of the Year Aaron Donald said that was disappointing.
"I'm just not satisfied; I'm just not happy," Donald said. "That's just the way I played and there are things we can do better. … But I'd rather build off of what we did wrong in a win than a loss."
Panthers quarterback Newton, playing in his first regular-season game since Dec. 17, when a lingering shoulder injury forced him to the sideline. Newton completed 25 of 38 passes for 239 yards, but had a costly backward pass that resulted in a fumble deep in Carolina territory leading to a Rams touchdown. He also had an interception with 5:55 left in the game and was held to a career-low minus-2 yards rushing. After the game, Newton said he felt "a little rusty" and he and his teammates "weren't connected to the same Wi-Fi."
In his postgame press conference, Panthers Head Coach Ron Rivera summed things up by saying that his team had to many missed opportunities.
"We should have been better than that. We had a good week of practices. I'm just disappointed we missed a couple of things. We got to be sharper," he said. "We played against a very good football team, the defending NFC champs. To battle these guys to the bitter ends talks about what are our opportunities can be, who we can be as a football team."
Rams head coach Sean McVay said, "Ultimately, it's about finding a way to get a win. We did that as a team and that's the goal."