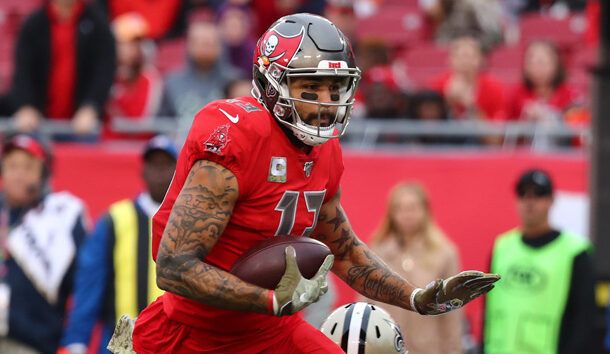 TAMPA, Fla. – These are troubling times with a global pandemic and then no vaccines, as of now,  to quell the coronavirus which has wreaked havoc around the globe now finds itself front row and center in the sports world.
It's a quizzical situation in the sports world as the Tampa Bay Buccaneers are set to open training camp this week. The virus, of course, caused the cancellation of summer workouts and now all four preseason games. In an instant, talent evaluation is a shot in the dark with no tape and no actual games for the coaches to evaluate.
"You're not going to be in the same football shape if you had all the learning that takes place in the spring and a true training camp with four preseason games to look at a lot of young players," said Bucs coach Bruce Arians on a Zoom meeting with reporters on Tuesday.
One advantage Tampa Bay has is a veteran roster after adding six-time Super Bowl winner in Tom Brady and tight end Rob Gronkowski in the offseason. Behemoth talents like these and then even second-year players such as Devin White will be in position to get the new draft class, which all signed on Tuesday, and the undrafted free agents up to speed on the intricacies of Arians' program.
"I think one thing, especially defensively, is we've got some great veteran leadership on that side of the ball," explained Arians. "When you add Tom and Rob to go along with the guys we have on offense – we're still young on offense, but they're very, very mature people and players."
Maturity and discipline are going to be the calling cards with which players will deal with if the NFL is able to operate until the pandemic subsides. Players on all 32 teams must be cognizant of the fact that if they are not in their team's facilities, they should be at home in quarantine.
This is obviously a contact sport and none of these teams need a situation to occur as in the NBA earlier this week when LA Clippers star Lou Williams left the bubble in Orlando and wound up at the Magic City gentleman's club in Atlanta with a friend.
Arians showed his contact tracing device to reporters and noted that the team is doing everything it can to adhere to the best practices for fighting the virus as outlined by scientists and experts involved with the pandemic.
"You're not going to find me out at any of my favorite restaurants or bars, so you're welcome to come over to the house," said Arians. "That's about the only place I'll be – in the office and in the house. You've got to be as safe as possible. It's going to take a lot of discipline."
As the Buccaneers take the practice field at One Buc Place this week, Arians is pleased with the protocols in place to try to procure as safe of an environment as possible.
"We had a week of staff meetings where we went through the protocols, how to teach with a mask on and all of the things that we are going to do differently," said Arians. "I'm very, very comfortable with it. As far as on the field, I'll maintain a mask and probably a shield just for personal use, and coach like I've always coached."