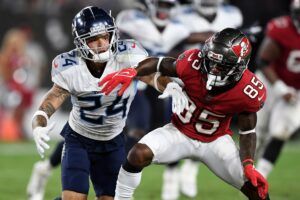 TAMPA – The score of the Tampa Bay Buccaneers' 34-3 loss to the Tennessee Titans in Saturday night's second preseason defeat could not have meant less.
Offensive line positions, the race for the backup quarterback and adding more defensive depth were some of the things on the Bucs' agenda for Game 2. They have one more preseason game in Houston before hosting Dallas on Thursday night football on Sept. 9 to open the season.
"We threw the ball in this game because we ran so much during the week," explained Buccaneers' head coach Bruce Arians. "I just wanted to evaluate quarterbacks and offensive linemen in the passing game more than I did the running game."
Arians was understandably disappointed on some fronts, especially drops by receivers. Tight end O.J. Howard was pressed into duty as he dropped his fist two passes. He then turned around and caught his next three passes thrown his way.
"He's made those in practice and there's a time when you have to switch gloves when they get too wet," noted Arians. "I think the one just squirted through his hands, but after that he caught everything. It's not concerning."
Howard is coming back from an injury-filled season, trying to hit his stride inside of the offense.
"Getting in there, seeing live action and getting practice reps, he is just getting better and better," said backup quarterback Ryan Griffin, of Howard. "Started off a little shaky, but then he gets back in his groove and you see he's fine."
Line Play:
 Tampa Bay has had injuries on the offensive line so far through training camp and Arians has had to sign reinforcements, one of whom was Earl Walton, who played with the Bucs in 2019 and 2020.
"A lot of stuff gets put on the O-line that's not always there fault," Arians commented. "I mean Nick Leverett hadn't played center – we are on our fifth center. He did a great job."
Steadying the second team offensive line will be important with the veterans that Tampa Bay has up front to start the games. Arians joked about just meeting some of the players that were signed late in the week.
"Tough to get 11 guys on the same page, sometimes it's even tougher if they just got here two days ago," he mused. "It's just part of the deal."
The biggest battle is for the right guard where Alex Cappa looks like he is in place to start.
"(Aaron) Stinnie played really well in the playoffs and Cappa, he needs to play some because he missed all that time. Yeah, there's a little bit of a battle but it's Cap's job to lose."
Preseason props:
It's easy to see why starters get very few reps in these preseason games. Look at the injury logs of the past and look at the names that were injured or had to be shut down for the whole season.
The Buccaneers and Titans had joint practices this past week and the veterans were getting most of the reps in those. Many of the Bucs starters weren't even in uniform which is a common sense move, not only to Arians but other coaches around the NFL, who are holding out starters.
Arians intends to get starters on the field this week in Houston.
"They're going a half next week because we're going so long before we play," explained Arians. "I mean, we can't go against Dallas, who is really good, and all of a sudden play game speed."