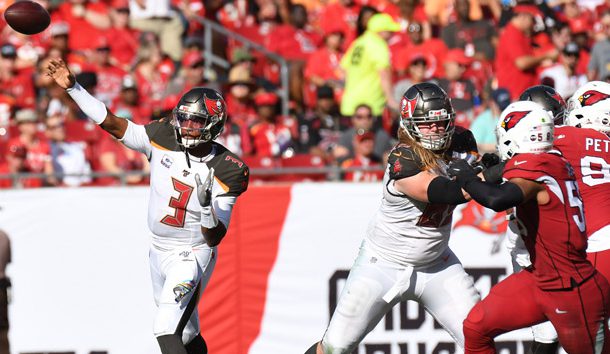 TAMPA — Tampa Bay rookie cornerback Jamel Dean, a former Auburn Tiger, saved the day Sunday for the Buccaneers in their thrilling 30-27 win over the up-and-coming Arizona Cardinals at Raymond James Stadium.
The Cardinals had a 27-23 lead and had driven into the red zone with under four minutes to play. On second down, Dean stepped in front of a Kyler Murray pass and picked it off on the 8-yard line. This gave the reeling Bucs one final shot to end their four-game losing streak.
"I feel like I really had a chip on my shoulder because I knew last week – that's not me because I knew I was better than that," Dean said. "So, once I got the opportunity to go back there and redeem myself, I had to make sure I took that opportunity and had to seize the moment."
Dean, like all the young players in the revamped Tampa Bay secondary has to learn on the job. Last week, Seattle quarterback Russell Wilson was dialed in on Dean's whereabouts. He was susceptible to the quarterback, who at this point is the NFL's MVP.
Wilson burned Dean for three of his five touchdown passes and Dean vowed not to let that happen again.
With Carlton Davis, another former Auburn defensive back, still out of the lineup due to injury, Dean knew he would again get the start. Coach Bruce Arians knows the young kids are going to learn on the job and Dean didn't disappoint on Sunday.
"I can't be happier for anybody than Jamel Dean – wins the game," said Arians. "Last week, he's the goat. He's going to be a hell of a player. All those young kids in the secondary are getting better and better."
Dean discussed watching extra film last week in defensive coordinator Todd Bowles' office. The pride that he had would not allow him to have such a daunting performance once again.
"I was just going over film and letting him teach me the game because honestly, I didn't want to have that feeling I did last week," noted Dean, who was the Bucs' third-round pick last April.
 The Drive: Jameis Winston once again proved his meddle and the fact that he has plenty of ability to be clutch in the waning moments of any game.
After the Dean interception, he immediately found wide receiver Chris Godwin for a 49-yard pass play to the Cardinals' 43-yard line.
"Great play call, great athleticism by Chris to keep his feet going and we did a good job," Winston said. "I am just really elated that we finished. That was a really ugly win, but we found a way to do it."
Winston kept the heat on the Arizona secondary to the point where Tampa Bay was able to use two pass interference penalties to set up former Auburn running back Peyton Barber's game winning 1-yard carry.
He rebounded from an interception on the first drive of the game as he moved forward and wound up passing for 358 yards, completing 30 of 48 passes. His game management was even more impressive in an outing where the lead changed hands six times.
"One thing about Jameis that I love is he goes to the next play," said Arians. "Whatever happens – good, bad, or ugly – he goes to the next play. He's really become a really good pro that way – like water off his back."
Winston has been roasted in the media in Tampa for his turnovers, but what many do not understand is how the lack of pass protection has been a major issue as well. He was sacked four times on Sunday for a combined total of 34 through nine games.
Runnin' Away: The Buccaneers' running game is becoming more and more productive as Ronald Jones has started to become the featured back in the offense.
His activity in the passing game, especially yards after the catch on swing passes, is making Tampa Bay even more difficult to defend.
On Sunday, he had two 17-yard gains on swing passes on Tampa Bay's second drive of the game which ended in Jones' 6-yard touchdown run and a 7-3 Buccaneers lead.
"He made a great run for the touchdown," Arians noted. "He's out there catching balls and making people miss. But then, he misses a blitz pick-up that he shouldn't miss. He's still a work in progress."
Jones caught 8 passes for 77 yards and rushed 11 times for 29. The key is the versatility and the change up of using both Barber and Jones depending on the method of attack.
Barber scored the game winner as he ran into the end zone off of the left side with 1:48 to play.
"It's tough to take the back seat when RoJo is getting the starting reps and he is playing really good football," said Winston. "That goal line run was incredible for him to get to the end zone."